Sure, you could go jump in the lake. Canada has some great ones. But, as locals know, nothing beats Nova Scotia's Northumberland Shore ocean beaches. The tidal Northumberland Strait outside Fox Harb'r Resort's doors is embraced by all three Maritime provinces — Nova Scotia, New Brunswick and Prince Edward Island.
That means some of the warmest stretches of seaside north of the Carolinas.  For the quality of the seafood, the scope of recreation options, or the perfect solitude, a day on the Northumberland Shore has special appeal.
These 10 tips on where to soak up our Nova Scotia seaside will help you discover your own shore thing.
4 Up Close Ways to Explore the Northumberland Shore
Golf Nova Scotia — From the Bay of Fundy to the tip of Cape Breton Island, Nova Scotia is making waves as a must-play golf destination. Like other stand-outs, Fox Harb'r Resort's championship golf course takes full advantage of its Atlantic Ocean setting. Graham Cooke's links-style back nine flow along a dramatic, red rock section of the Northumberland Shore. Then, the course curves back in toward the Clubhouse perched above the sea. For those with more days to stay and play, nearby Northumberland Links offers ocean views from 16 holes. On a clear day, you'll also get a coastal view of all three Maritime provinces.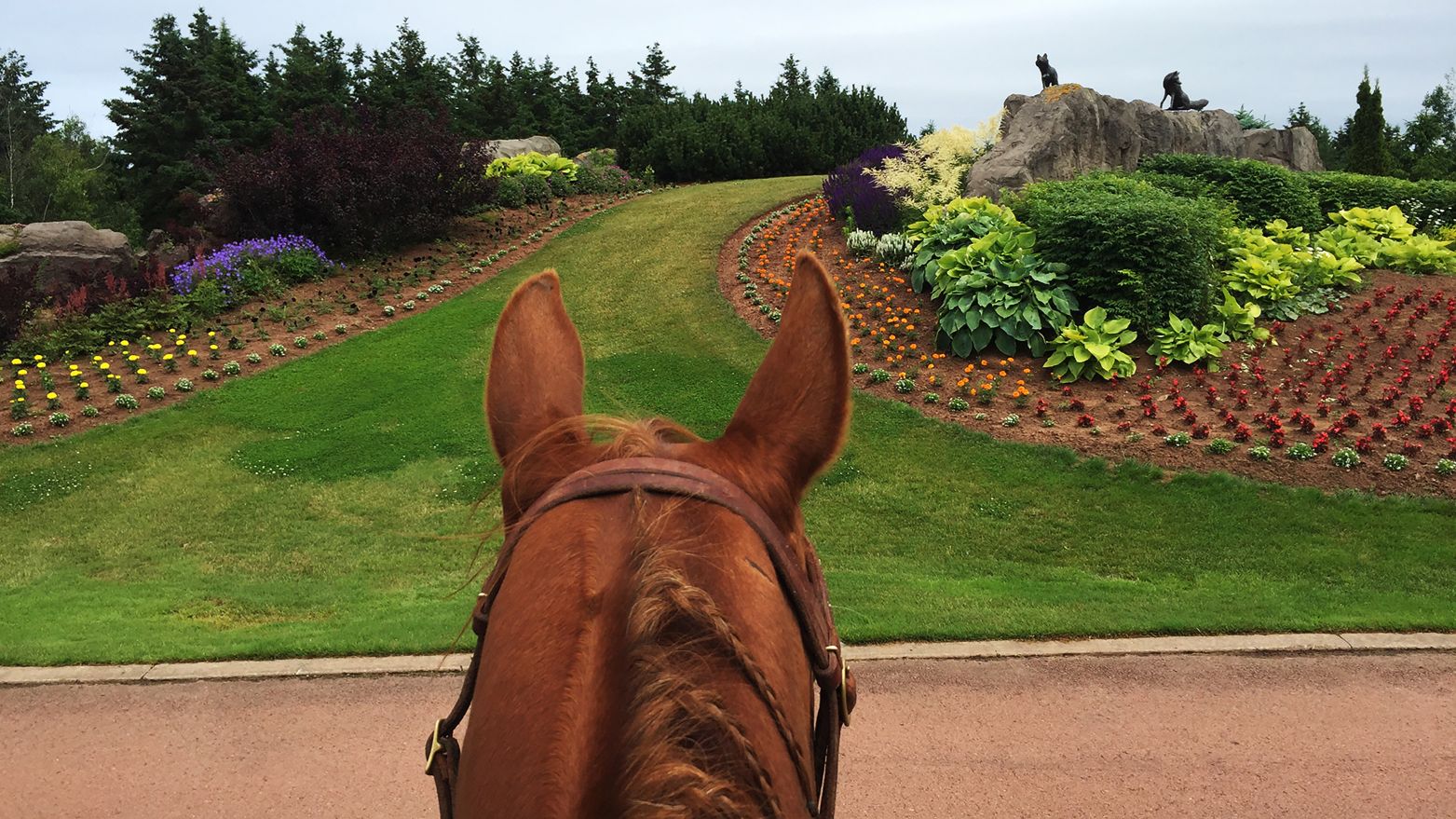 Saddle Up — You don't have to be an equestrian to appreciate the joys of a seaside horseback trail ride. Fox Harb'r Resort horseback riding partner Forever Memories Equestrian Centre, ensures even first-time riders with a zest for adventure enjoy being taken off the beaten path and along the Northumberland Shore. Meanwhile, the rhythmic sounds of waves and horses' hooves make a very relaxing soundtrack.
Pontoon Cruise — For spectacular  wildlife views or sunset hues, try a motorized pontoon boat float along the Northumberland Strait. Fox Harb'r Resort pontoon boat sightseeing tours are also a great way to wildlife spot loons, herons, osprey and eagles. Watch them swoop and glide on the warm updrafts above the shore. Since most pontoon boat tours are private bookings, it's easy to customize your trip along this stretch of Nova Scotia's North Shore — including add-on food & beverage — exactly as you wish.
Go Paddling — At its best, Nova Scotia sea kayaking provides a meditative oneness with the marine environment. Take your opportunity to morph into an honourary sea mammal. Look forward to likely spotting some actual seals, too. Calm, protected Fox Harbour Bay allows for kayaking within 100 feet of shore without entering deep water. Therefore, Fox Harb'r Resort sea kayaking options include single, tandem and junior kayaks, as well as optional kayak tour guide services. For more extensive sea kayaking adventures along the Northumberland Strait, check out Coastal Spirit Expeditions too.
Sample Prime Nova Scotia Seafood and Wine
Dig It — No farmers want too much water on their land. Except for our Nova Scotia neighbours the Purdy family. They have a 200-acre, sustainable farm at the bottom of the ocean. Their ancestors started growing oysters here on the Northumberland Shore back in 1867. Today, their Bay Enterprises' Tatamagouche Bay, Tata and Malagash oysters are available across Canada. In season, you can visit this fellow Taste of Nova Scotia member on weekday afternoons for a full, all-ages oyster learning experience. Their u-dig quahogs includes instruction and two dozen of the delicious, super-sized clams (expect to get wet and muddy.) Customized Nova Scotia oyster experiences are also available for Fox Harb'r event groups.

Wine View — Local winery and resort vintner partner, Jost Vineyards is well known as the pioneer of  modern Nova Scotia wine-making, and for their frizzante-style, sparkling wine. In addition, visits to this Malagash Peninsula landmark, including private winery tours for Fox Harb'r Resort guests, come with the bonus of sparkling shore views. For actual beachcombing, Blue Sea Beach Provincial Park is also nearby.
Lobster Love — If you haven't eaten lobster in Nova Scotia, you haven't truly eaten lobster. At Fox Harb'r Resort, our favourite way to  Nova Scotia lobster feast remains the traditonal lobster boil, with lots of sweet, local Tatamagouche butter, for dunking that just shelled, succulent meat.  We also serve an over-stuffed, classic lobster roll two ways. Not to mention lobster ravioli and gourmet lobster poutine. Check out current resort dining menus for all the latest lobster dishes, and news on Nova Scotia's popular Seafood Trails.
A Few More Ways to Tour Nova Scotia's Northumberland Shore
Beach Walk — Known for it's balmy waters that average over 22C (72F) in summer, Melmerby Beach is a North Shore, Nova Scotia must-visit for many. Located 90-minutes east of Fox Harb'r, it's close to a variety of attractions clustered around the historic seaside town of Pictou, for a full day out of activities. Melmerby's 2 km (1.25 mi) beach has a boardwalk, picnic tables and ample parking, and is supervised during July and August. Quiet off-peak and in early morning, this Nova Scotia provincial park does get relatively busy during the main weeks of summer.
Go Coastal — However, there is no need to leave Fox Harb'r to explore the Northumberland Shore. Walk, run or bike the 5 km (3 mi) Fox Trot Trail right along and above the coast. At Fox Harb'r, bikes are complimentary to borrow.
And if you do fancy a short but scenic drive nearby, Golf Shore Road through Stone House and Fox Harbour toward Wallace Bay offers striking views of tidal inlets and salt marsh. Plus there are more sandy Northumberland Shore beaches to explore at McLean's Point or Fox Harbour Provincial Park, a charming "pocket" picnic park 4 km (2.5 mi) north of Route 6 at Wallace.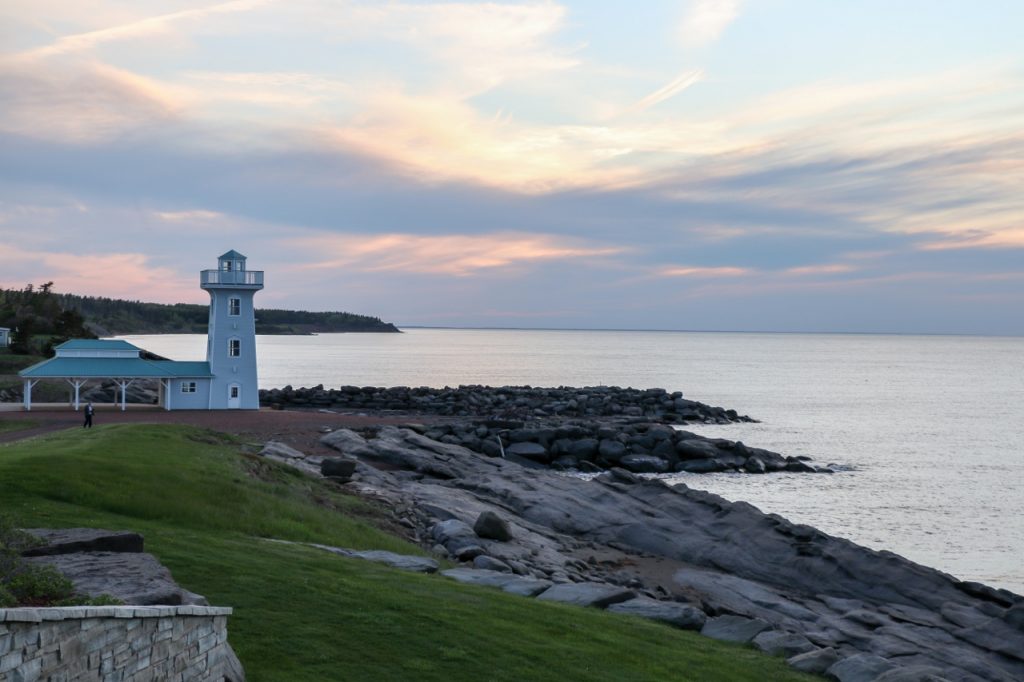 Star Watch — Fox Harb'r also has its own postcard place to watch the sun set and the stars come out oceanside, right on-site. The resort's classic East Coast, clapboard lighthouse is located above the deep water marina at the Lighthouse Terrace. Stroll on over, or request a resort shuttle ride.
Whether you choose to play, feast or simply kick back and relax, your perfect Northumberland Shore escape is here, waiting.
Plan an oceanside Nova Scotia resort getaway

Posted by Anne White, February 2018