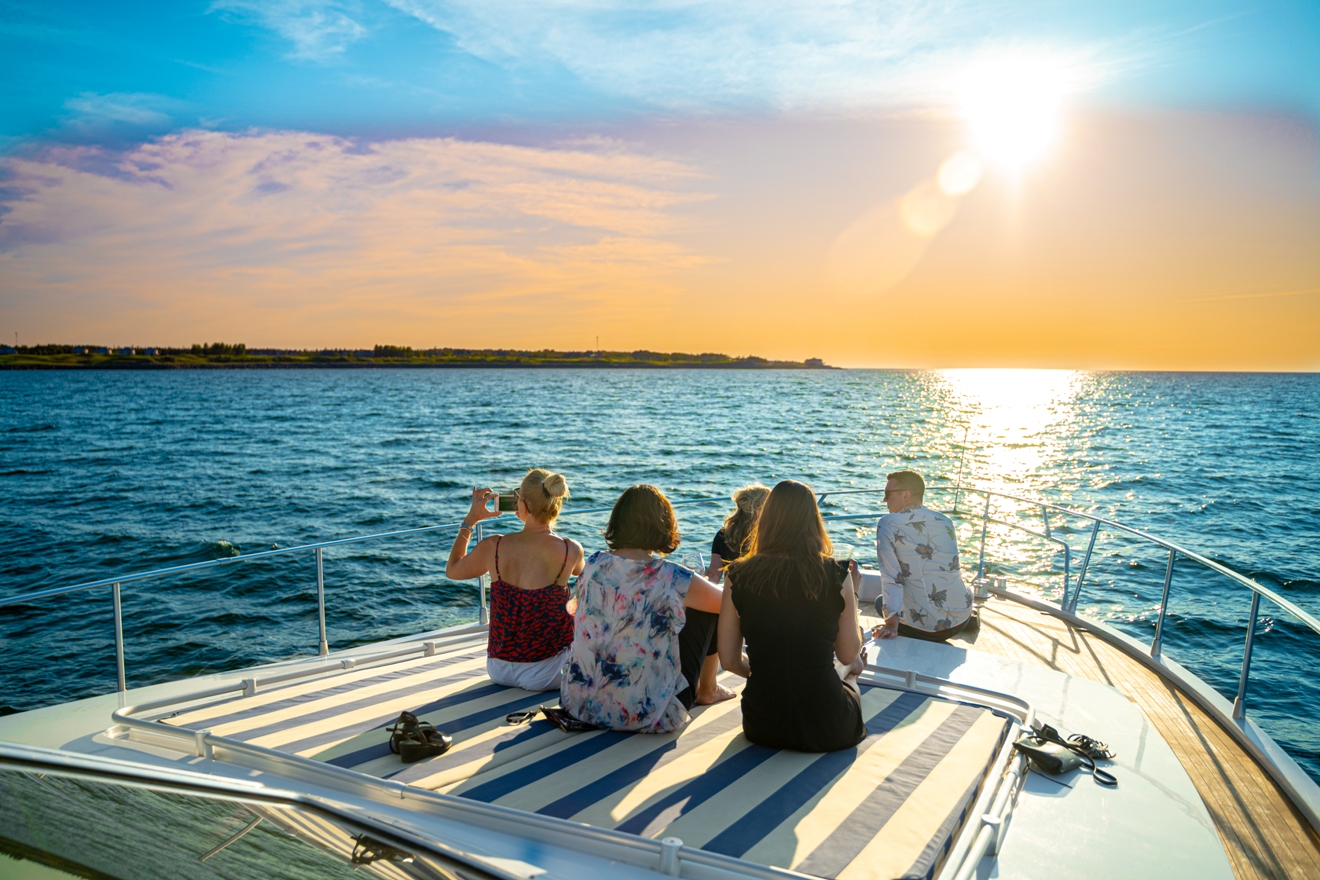 Boat & Yacht Cruises
Explore the Northumberland shore by sea
FOX HARB'R YACHT & PONTOON BOAT CRUISES
Explore the East Coast by sea from Fox Harb'r with a yacht cruise or pontoon boat cruise
Nova Scotia adventures are all about the ocean, Fox Harb'r boat cruises are the perfect way to sight-see and soak it all in. Breathe the Northumberland Strait's crisp sea air, listen to the rhythm of the waves, feel the coastal breeze. Fox Harb'r offers a choice of boat cruises aboard our comfortable pontoon boat, or private 62-foot Ferretti luxury yacht. Both boats depart from the resort's deep-water marina at Lighthouse Point.
LUXURY YACHT CRUISES
Discover the ultimate in cruising style and explore Nova Scotia's horizons on a private luxury cruise from Fox Harb'r aboard a 62-foot Ferretti yacht. Built in Forli, Italy this legendary craft features multiple entertaining areas, spacious lounging and sunning areas and a salon with wrap-around ocean views.
Fully crewed, day cruise fees include water, soft drinks and snack.  Additional fee catering available.
Offered from July 15 to September 20, 2021 availability and weather dependent.  Maximum 12 guests
Yacht day cruise charter rates
$2,450 + tax for 2 hours
$3,600 + tax for 4 hours
$4,900 + tax for 6 hours
$6,300 + tax for 8 hours
Day trip to charming, historic Charlottetown, Prince Edward Island with 2 hours in harbour is $2,750 + tax
For Fox Harb'r yacht cruise details and bookings, email us or call 1-866-257-1801.
PONTOON BOAT CRUISES
All aboard for a pontoon boat cruise of Nova Scotia's dramatic Northumberland Shore. The 90-minute Fox Harb'r boat cruise gives you a chance to look for seals, seabirds and even spot the neighbouring province of Prince Edward Island on a clear day.
Offered June 15 to October 1, 2021 weather dependent.  Maximum 10 guests
$50 per person + tax
Children 5 and under free with accompanying adult
Private group pontoon boat cruises for up to 10 people maximum are offered subject to availability and advance booking. Private boat cruise rates start at $350/ hour + tax. And private cruise catering service is available from $30 per hour for your server plus all applicable food & beverage charges.
For Fox Harb'r pontoon boat cruise details, times and bookings, email us or call 1-866-257-1801.