AN UNFORGETTABLE COURSE.
A BREATHTAKING DESTINATION.
---
Book Now to get the Best Tee Times During the 2022 Golf Season.
Discover Nova Scotia's quintessential golf getaway destination, Fox Harb'r.
The province's only five-star resort, we are a haven of civility, character, and cuisine.
It's the perfect mix of comfortable luxury and East Coast charm.

Our coastal championship golf course, designed by renowned course architect and Golf Hall of Fame member, Graham Cooke, achieves a seamless combination of natural beauty and challenging layout.
Our Stay & Play packages offer a choice of one or two rounds of golf, and two days of indulgence at Fox Harb'r Resort's many amenities. They include:
One or two rounds of world-class golf
Two days of unlimited golf on the oceanside Par 3
Complimentary club & shoe cleaning
Use of the Golf Academy, including range balls
20% discount on all Dol-άs Spa services
One night accommodations in a luxurious suite
Deluxe breakfast served in the Cape Cliff dining room
NOVA SCOTIA'S ONLY 5-STAR RESORT
---

TEE OFF
Graham Cooke's links-style back nine flow along a dramatic, red rock section of the Northumberland Shore. Then, the course curves back toward the Clubhouse perched high above the sea.

CHAMPIONSHIP GOLF COURSE
Designed by Golf Hall of Fame Architect Graham Cooke, our award-winning course design overlooking beautiful landscapes, promises to be both challenging and breathtaking.

WINE & DINE
Fox Harb'r Resort's award-winning team of culinary experts create seasonally-inspired menus that showcase the best locally-sourced ingredients. In addition to both fine and casual dining options, we also maintain our own private vineyard.

SPORT CLAY TARGET SHOOTING
Practice your accuracy, precision and speed at our sport shooting range, re-designed by world champion George Digweed.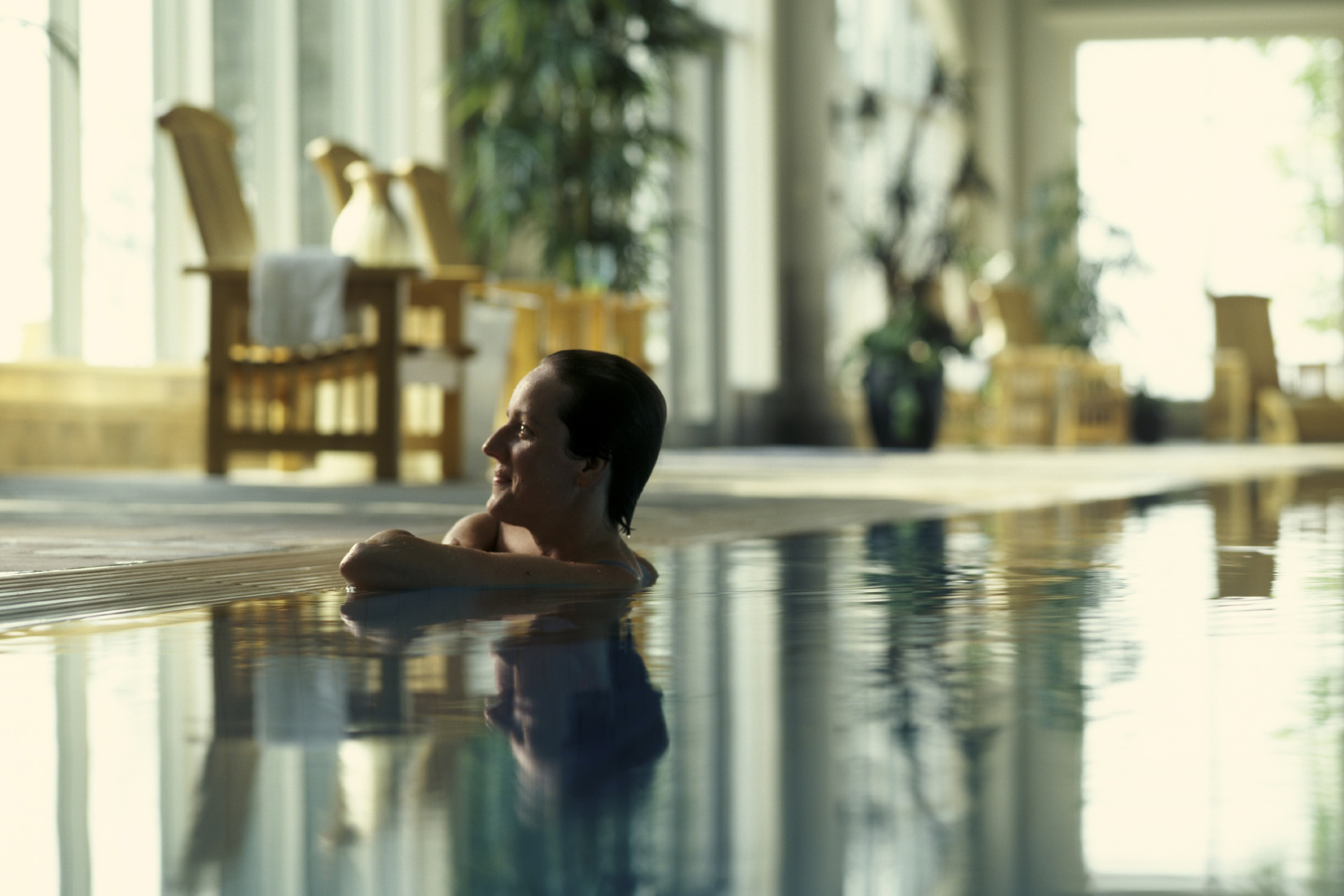 JR. OLYMPIC POOL & MINERAL POOL
Swim for fitness or fun in our junior Olympic pool and, when you're done, soak away muscle fatigue in our rejuvenating mineral pool.

STATE-OF-THE-ART SPA & FITNESS CENTRE
Our top rated spa and fitness centre pair the very best services and treatments for your physical and spiritual health. Take care of you body inside and out by working out with our state-of-the-art fitness equipment and following up with a soothing treatment at the spa.

LAND & COURT SPORTS
Whether you book a weekly match, or just play for recreation, our tennis and volleyball court sports may be reserved at your leisure.

LUXURY TRANSPORTATION OPTIONS
Our residents join us at their Fox Harb'r homes from around the world. And while our Resort may feel like a remote paradise, amenities like our private 4,885-foot airstrip and a deep sea marina make coming home simple and easy.

FAMILY TIME
Our spacious townhomes can accommodate big families in luxury. With three bedrooms and baths and a full kitchen, everyone can feel at home!

SEA KAYAKING
Sea kayaking Nova Scotia's diverse shoreline is easy at Fox Harb'r Resort. Paddle a kayak along the Northumberland Shore coastline for scenic views, photo opportunities, birds and more.
EXPERIENCE THE NORTHUMBERLAND SHORE
---

EXPERIENCE BIRD WATCHING
Take a motorized pontoon boat tour on the Northumberland Strait and take in local wildlife like spot loons, herons, osprey, and eagles as well as a spectacular views sunsets.

VISIT FARMS UNDER THE SEA
Experts since 1867, the Purdy family's oysters and quahogs are sought after delicacies. They'll even help you find your own, beneath the tidal flats. This adventure includes digging instructions and two dozen delicious, super-sized oysters and quahogs. Expect to get wet and muddy!

JOIN A TRADITIONAL LOBSTER BOIL
No visit to the Northumberland Shore is complete without a traditional lobster boil with lots of sweet, local Tatamagouche butter for dunking that just-shelled, succulent meat.

PAIR SPARKLING WINE WITH SPARKLING SHORES
Local winery Jost Vineyards is the pioneer of modern Nova Scotia winemaking and known for their frizzante-style wine. Visits to this Malagash Peninsula landmark come with the bonus of sparkling shore views.
LESS THAN 2 HOURS FROM HALIFAX AND MONCTON
---
Fox Harb'r is nestled in the peaceful town of Fox Harbour on Nova Scotia's scenic Northumberland Coast.
We're close to Halifax's Stanfield International Airport (YHZ) and the Greater Moncton International Airport, both just 90 minutes away by car.
Also available is our private Jetport, accommodating most types of general aviation aircraft.
TRIPADVISOR REVIEWS FOR FOX HARB'R RESORT
---

Fox Harb'r Resort did not dissapoint I traveled to Fox Harb'r in September for golf and was absolutely taken back by the beauty of this Resort. The staff where very polite and could not do enough for you. The golf course was like walking on a very nice plush carpet. The accommodations ,,,Very comfy and had a view on the Northumberland Strait!!!!! I was invited in November by the "Gun Dealer" on a guided Pheasant shoot . This was a different experience then the golf but Wow what an experience!! Bob MacDonald who was our guide and who also runs the Fox Harb'r Sporting lodge made this experience one that I will never forget. Bob made this hunt one to remember. His 2 dogs Nitro and Drake where a pleasure to watch as they flushed and retrieved the pheasants . I Also would like to thank Bobs wife for an amazing lunch... tasty sandwiches ,The Maple butternut squash soup was awesome !!!! I could go on and on so I just want to say, first thank you to the "Gun Dealer" ,Ross Faulkner and his Son Justin Faulkner for the invite . Secondly I would like to thank Bob MacDonald and Fox Harb'r Resort for making this experience ....UNFORGETTABLE !!!! .

Went for a wedding The rooms/view were absolutely stunning. I did not participate in the golf aspect, but the cleanliness is next to none especially in these hard times. Each time we went to the pool, it was very quiet which made the time in there very enjoyable. 10/10 would stay here again.
Maureen McCool
2021-10-25
FOX HARB'R IS GORGEOUS Just make sure that you are aware of any closures before making plans. the suite was beautifully laid out and very comfortable. My husband thoroughly enjoyed the golf course and says he played the best golf of his life on it. A fox even tried to steal his cell phone out of the golf cart - adorable!

Wonderful Fall Fox Hrbr Getaway Never disappointed Love this Resort. The Pool is always warm and love the minerals. Delicious food. Staff are wonderful, helpful, friendly. Atmosphere is so welcoming. Always look forward to our two trips per year. Wish I could stay much longer.

Aquafit fine time at Fox Harb'r. Once again, Fox Harb'r, you have outdone yourselves with fantastic service for our Aquafit group. All of our ladies had a wonderful time. Our Aquafit classes in the pool were super. Thank you for letting us use your pool. And I just have to mention the wonderful, Sandra, the server in the Cliffs dining for our breakfasts. We all love Sandra! She made our breakfasts the highlight of the day!!! Thank you, Sandra!

Great visit with Friends! Third trip to Fox Harb'r Resort❤️ Just returned from this beautiful place. This time, 24 Amazon Ladies enjoyed great service, food and amazing pool. The Beach Bonfire and Pizzas???? were fantastic. Service was great, quick and friendly. Truly appreciate it! Thank you!

X5690BBmargaret
2021-10-21
Another Amazing Stay! Fox Hab'r is always a fabulous getaway. My husband and I always say, "why do we go anywhere else" while there. Food fabulous. Service fabulous. Views fabulous. We try to make at least two trips a year it is that amazing.

Overnight golf package at Fox Harb'r Great resort and always first class experience. The golf course, spa, accommodations and meals are fantastic and combine to make the trip memorable. This was my 4th trip tot he resort this season. I would recommend Fox Harb'r to anyone.

Wedding and Golf The location is amazing, beautiful grounds, golf course and buildings! Our rooms and house were really nice(the house was huge, great for the pre and post wedding gatherings!) The wedding was perfectly arranged by the staff and held outside by the sea, it was awesome. Excellent shuttle service. The dining was top notch, great food and service, great staff all around! The golf course is 1st rate, tough but fair, and in great condition! I can't wait to play it again.

Fox Harbour Fall Stay Spent a night at Fox Harbour. Amazing place to stay in the fall - colours were great and weather was fantastic for this time of year. Great updated room with beautiful view. Great place to relax and unwind after a busy summer.