SUPERB CUISINE WITH LOCALLY-SOURCED INGREDIENTS
Our award-winning team of culinary experts cater to every taste with seasonally-inspired menus showcasing the best of our local flavours and the freshest ingredients. Savour melt-in-your-mouth Atlantic lobster, flavourful Tatamagouche rack of lamb, superb wines from our exemplary cellar and an array of enticing signature desserts. Join us at the Cape Cliff Dining Room or for casual meals at the Willard Room.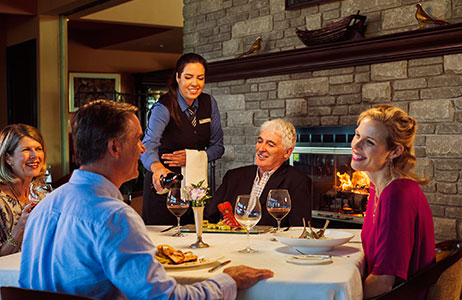 CAPE CLIFF DINING
Sustainable Seafood Restaurant
Overlooking Fox Harb'r's 18th green and the beautiful Northumberland Strait, the Cape Cliff Dining Room is Atlantic Canada's first sustainable seafood restaurant.
Chef Shane Robilliard's culinary team developed a seafood focused menu sourcing the freshest sustainable choices. The menu will evolve reflecting the many fishery options that Nova Scotia is famous for.
Join us for a sustainable meal that will leave you wanting to return.
Cape Cliff Dining Room is open for breakfast from 6:00am – 11:00am and dinner from 6:00pm – 10:00 pm. Resort casual dress code is in effect for evening dining.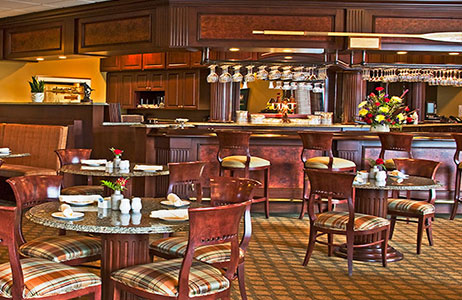 THE WILLARD
Casual dining to whet your appetite
Settle in the comfortable bar area with flat screen TV, a spacious outdoor terrace and delicious menu. The Willard provides a rendezvous after a thrilling morning on the shooting range or for a light snack before tackling the back nine.
The Willard's menu boasts such favourites as a succulent burger nicknamed the "Flaming Hole in One Burger", our famous seafood chowder, fresh oysters and an open faced beef and roast tomato sandwich topped with aged white cheddar. We also offer an extensive bar featuring premium and imported spirits and local craft beers.
Open daily from 11:00 – 10pm for guests and residents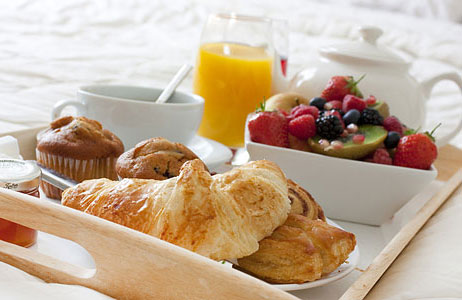 IN-ROOM DINING
Relax and dine in all day long
We offer a delicious selection of  breakfast, all day, dinner, dessert, snack and late night options.
Choose from traditional meal classics like local Nova Scotia blueberry pancakes with maple sausage, Fox Harb'r's signature seafood chowder as well as line-caught halibut, artisanal smoked salmon, and a selection of chilled seafood on a platter. For those with smaller appetites, our "Future Members" menu is perfect for children and other family members.
Fox Harb'r's in-room dining service is available around the clock – whenever you choose!