We share your passion for golf
---
Challenge your skill and find your game at Nova Scotia's only five-star golf resort. Get set for an exhilarating experience on our immaculately trimmed championship course — along with golf learning opportunities that enhance play for all skill levels through our Golf Academy, Golf Clinics, camps and more.
Blending Scottish links and traditional parkland golf, this spectacular and challenging oceanside course is designed by renowned course architect and Golf Hall of Fame member Graham Cooke.
Members and guests enjoy special booking privileges for golf reservations when booking a stay. Private and semi-private lessons and other services are available.
Each learning experience is founded on a commitment to educating students equally — regardless of age or level of play — in a relaxing and personalized environment.
Focusing on the fundamentals of golf, our clinics will leave you with a better understanding of your game, as you meet new people and take in the glorious surroundings.
Explore our course

Hole:
1
Yards:
440
Par:
4
A straight but difficult opening par 4. A drive just left of the fairway bunkers will leave a mid-iron approach. An accurate approach shot is necessary to this narrow green protected by deep bunkers left and behind.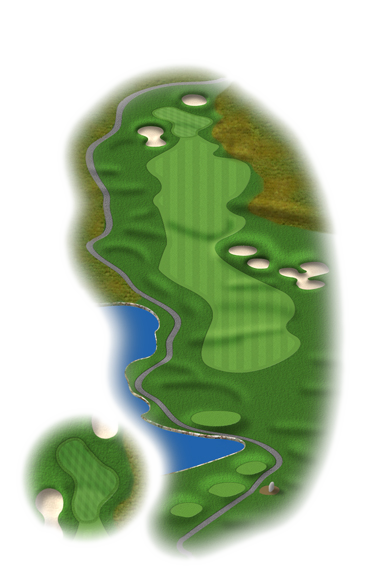 Hole:
2
Yards:
565
Par:
5
This dogleg-left par 5 is the first good birdie chance. Long hitters can cut the dogleg and get home in two. The green is very deep and elevated, an extra club may be required on the approach.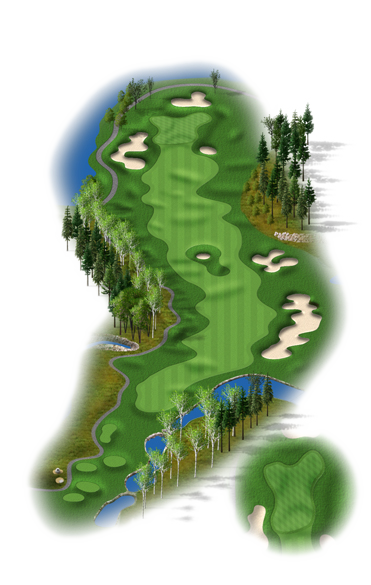 Hole:
3
Yards:
465
Par:
4
This is a long, difficult par 4 with trees on both sides. A solid, accurate drive will leave an uphill long-iron approach. The green is slightly elevated and divided in the middle by a large wale. Up and down from the right side is difficult.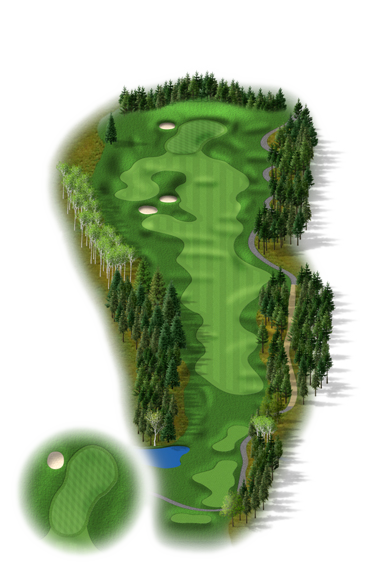 Hole:
4
Yards:
172
Par:
3
The first par 3 requires a short to mid-iron to a green that is wider than it is deep and protected by bunkers on all sides. Get an accurate yardage and aim for the centre of the green.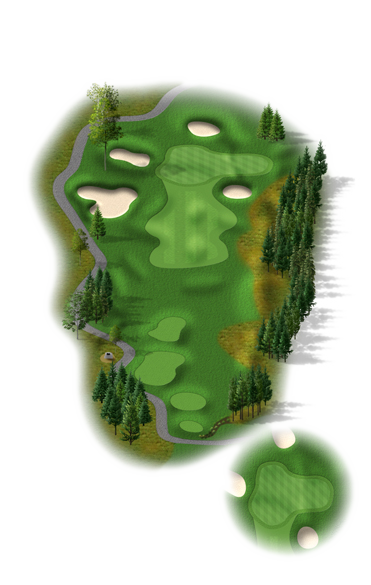 Hole:
5
Yards:
415
Par:
4
This short par 4 offers a good birdie chance. The drive has to fit between the fairway bunker and the lone oak tree. A solid drive leaves a short-iron approach to a deep, two-tiered green.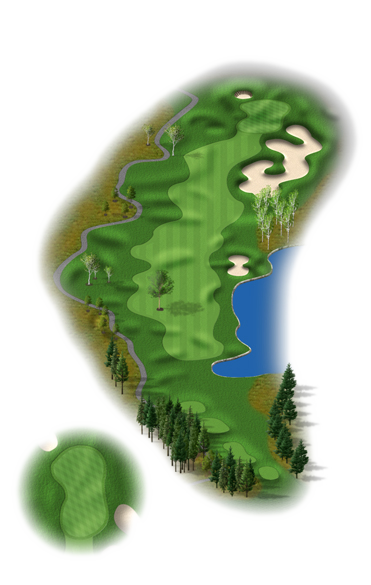 Hole:
6
Yards:
434
Par:
4
Another demanding par 4 where par is a good score. A drive just right of the fairway bunkers will leave a mid-iron uphill approach. The right side is protected by a large, deep bunker that requires an extra club to carry.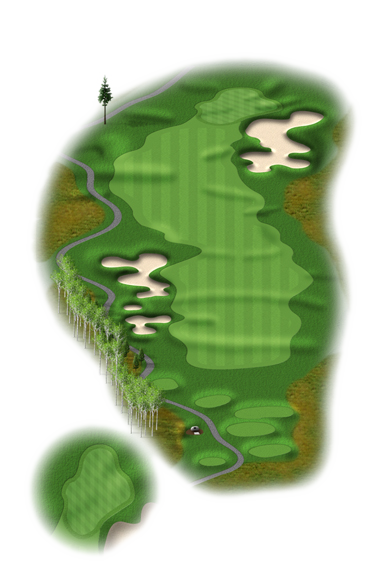 Hole:
7
Yards:
207
Par:
3
This par 3 is as difficult as it is beautiful. Water left and bunkers right protect this very large, three-level green. Balls that land short will not run up. Another hole where centre of the green and two putts is a job well done.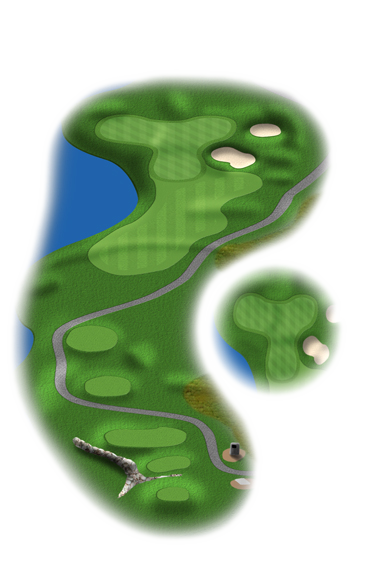 Hole:
8
Yards:
410
Par:
4
This short, strategic par 4 requires an accurate tee shot aimed to stop in line with and short of the farthest fairway bunker. The approach is slightly uphill and an extra club may be required.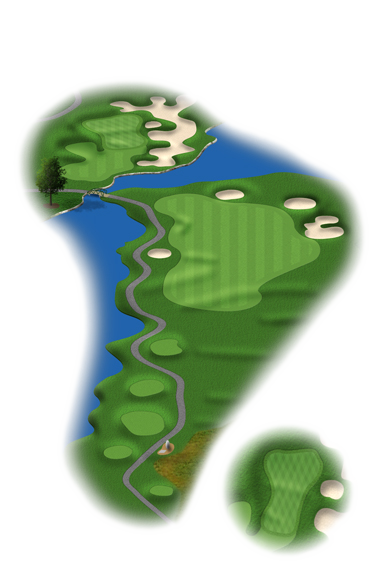 Hole:
9
Yards:
572
Par:
5
This long par 5 requires a sold left-to-right tee shot out of a chute. The clubhouse front entrance makes a good target for the blind second shot from the centre of the fairway. The third is a very long, three-tiered green, when the pin is back add two clubs.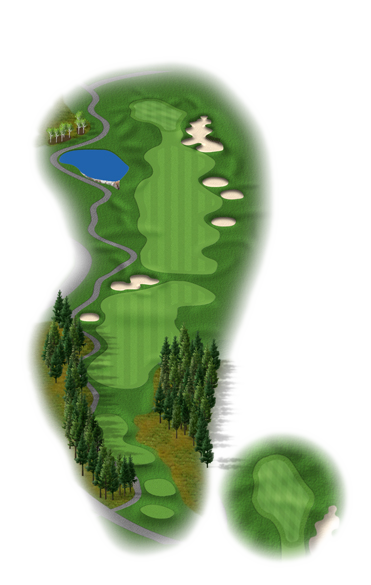 Hole:
10
Yards:
446
Par:
4
This back 9 starts with a great dogleg-right par 4. Long hitters can challenge the fairway bunkers — aiming left of them is recommended. The approach shot is to another elevated three-tiered green that's difficult to read.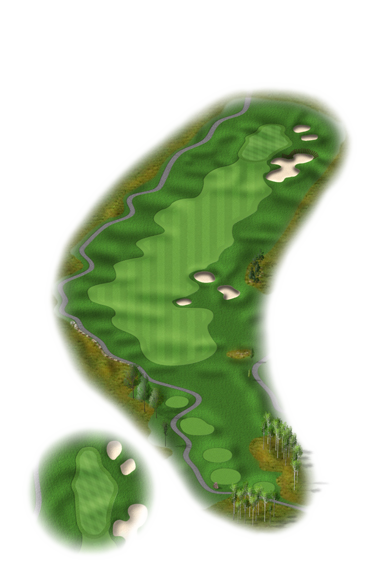 Hole:
11
Yards:
581
Par:
5
A solid drive left of the fairway bunker is needed on this long, uphill par 5. From the top of the hill, the second shot is downhill to a fairway that widens right. Approach shots from the right have a much better chance on this severely left-to-right sloped green.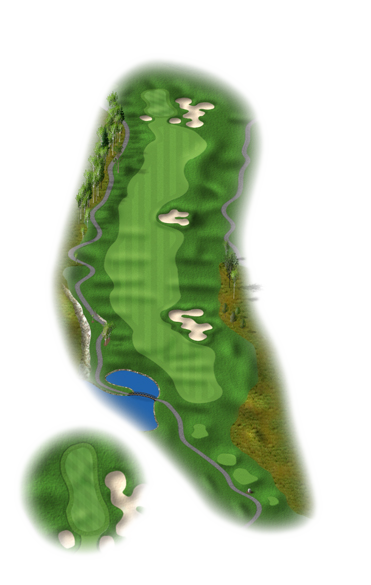 Hole:
12
Yards:
214
Par:
3
Pause on the 12th tee to enjoy the breathtaking view of the back 9 and the ocean — but don't relax for too long as a difficult, long par 3 awaits. A tee shot aimed slightly left of your target is recommended as everything on this hole fails to the right.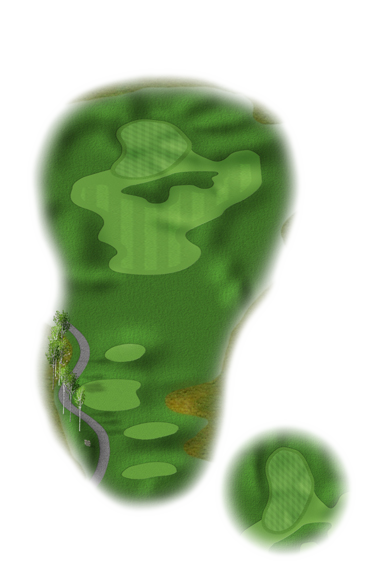 Hole:
13
Yards:
417
Par:
4
This is a wonderful par 4. Bunkers and fescue grass down the left and a deep forest on the right frame this dogleg right. A solid, left-to-right tee shot fits this fairway well and for a short-iron approach. Steep mounds make saving par no simple task.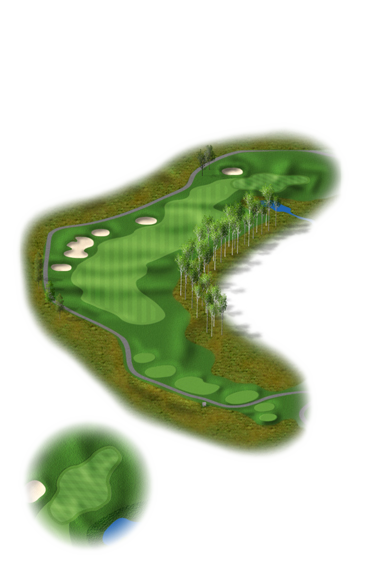 Hole:
14
Yards:
412
Par:
4
The Super recommends a long iron from this tee, the Pro says driver. There are two fairways to choose from, divided by a plateau. Avoid the left side or your ball will find a deep water marina. This green plays like two with drastic elevation change.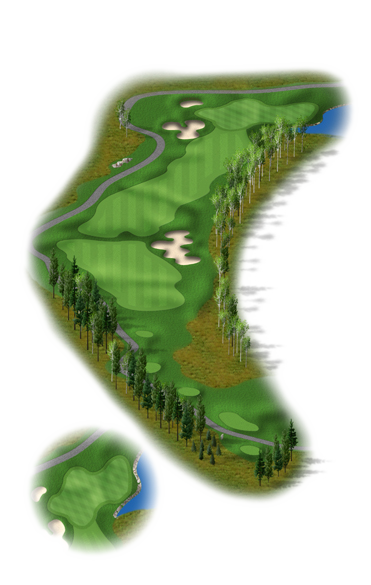 Hole:
15
Yards:
220
Par:
3
This short, scenic par 3 plays extremely hard when the wind picks up off the water. Close-in bunkering on both sides places the emphasis on finding the right line. Commit to a club and aim for the centre of the green.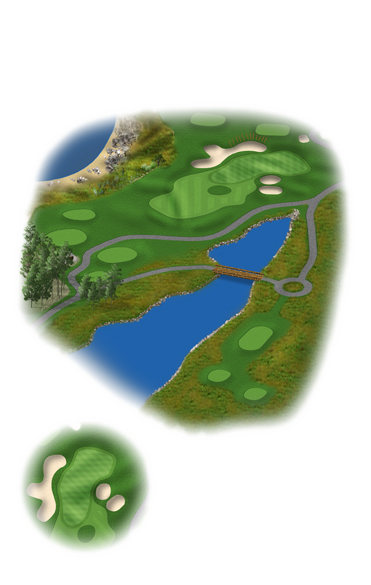 Hole:
16
Yards:
353
Par:
4
"Wow" is the most common reaction when people step on the back tee here. The tee shot is a short carry over an inlet of water to a generous landing area. The second shot is to a small, elevated green that gets firm as the day goes on.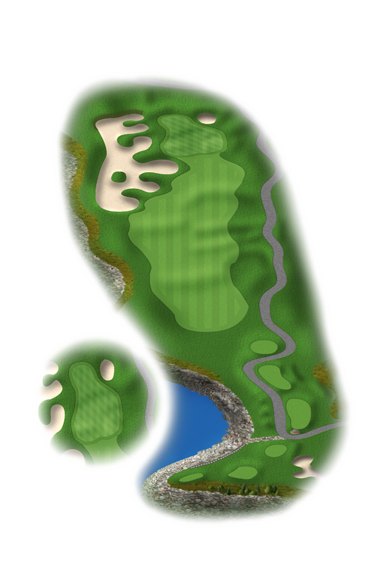 Hole:
17
Yards:
430
Par:
4
A gorgeous dogleg-left par 4 that offers fantastic views of the rugged coastline. Tee shots should be aimed down the left side to cut some yardage off. The approach is to another firm, elevated green that falls off on both sides.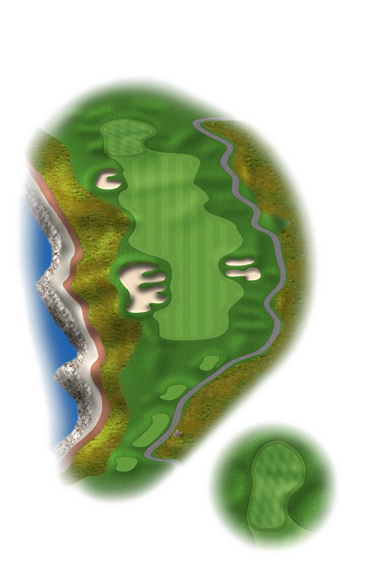 Hole:
18
Yards:
500
Par:
5
A classic risk/reward par 5. Long hitters can carry the corner of the water leaving an iron for the second. The little piece of fairway left can get home in two as well. The green is massive with over 6 feet of elevation change. Take extra clubs if pin is back.