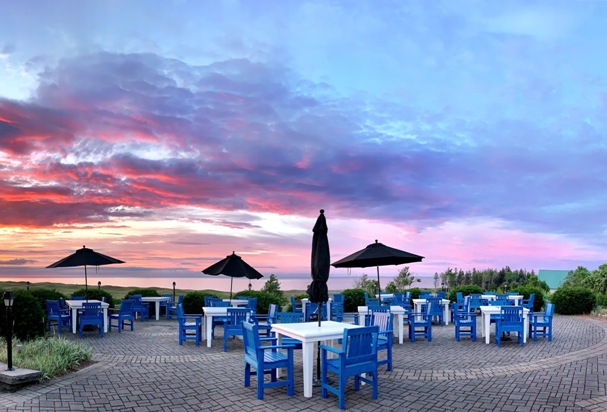 THE WILLARD FEATURED RECIPE
The resort's location on Nova Scotia's Northumberland Shore means fine local fare is abundant. See what's cooking inside The Willard at the Fox Harb'r Resort with our featured recipe and add a taste of Nova Scotia to your table.
Blackened Haddock Tacos
Cilantro lime chimichurri, fresh tomato & micro greens
10 oz haddock fillets
2 oz blackening spice
2 oz Lime Chimichurri sauce
6 garlic cloves
1 cup fresh cilantro
1 cup fresh flat-leaf parsley
½ cup chopped white onion
2 tablespoons white wine vinegar
½ teaspoon dried oregano
½ teaspoon red pepper flakes
½ cup extra virgin olive oil
½ teaspoon salt
Place all ingredients in a food processor and blend well, this will keep in the fridge for a week for other uses.
1 whole ripe tomato
3 oz micro greens
6 taco shells
Cut haddock into 2 oz strips and dredge lightly in blackening spice. Pan fry lightly in a heavy bottomed frying pan and then reduce heat to fully cook.
Cut tomato into small dice and toss with sauce.
Place a small amount of the micro greens in the bottom of the taco shell, top with pieces of the blackened haddock then the tomato and chimichurri mixture. Serve immediately.