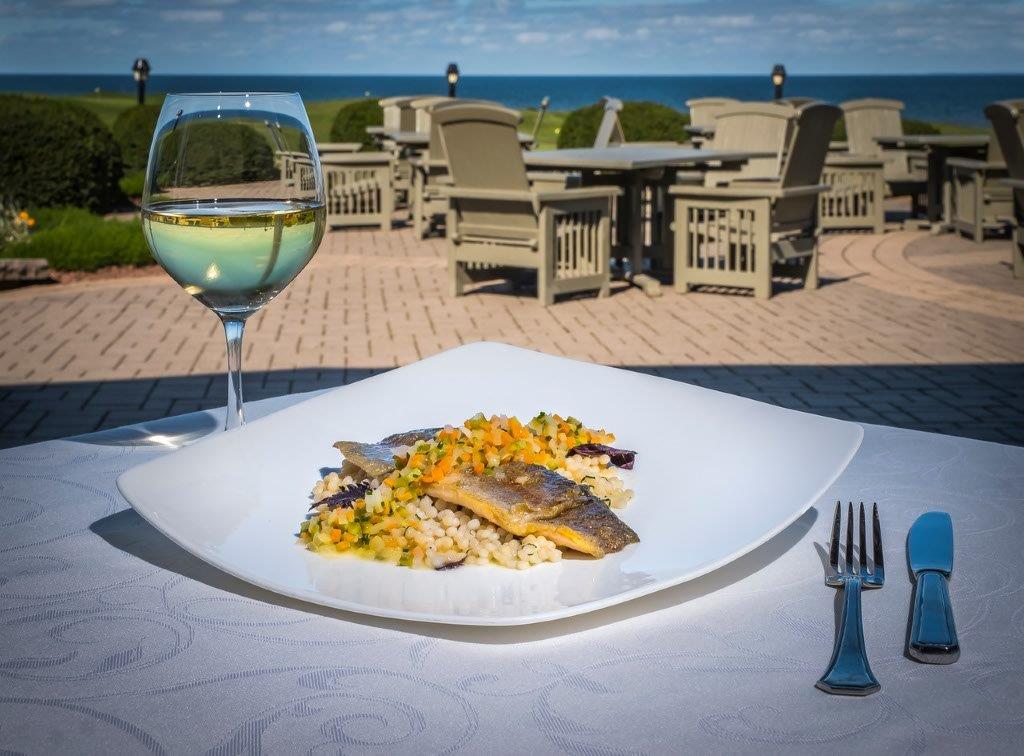 How Fox Harb'r Does Trout Differently
"Still and all – I had lost it but in that moment I knew I was a fisherman."
Mercy Among the Children, David Adams Richards
If you're a fisherman, you know there's no feeling in the world like playing and landing a fish. Cast a line into one of the two ponds at Fox Harb'r, and you just might get to tangle with a trout. They're fun to catch and make for a delicious meal.
But here's something interesting: the trout at Fox Harb'r are farmed.
Why Farm Trout?
Fox Harb'r has a rock retaining wall along its two and a half kilometres of ocean. All the rock was mined on the property, and these two small quarries have filled up with water. It made sense to stock these two ponds with trout.
After all, Fox Harb'r offers many options for the outdoor enthusiast. There's sport shooting, sea kayaking, golf, and thanks to the trout, sport fishing. These trout may be farmed, but the only way to harvest them is with patience and a lure.
What Makes This Farmed Trout Different?
There are some differences between the way Fox Harb'r farms trout and the way it's done on industrial farms. The biggest one is the water. Since the fish live in a closed system, there's no effluent water affecting other waterways. Also, the ponds are significantly larger than they need to be to support the number of trout that live there.
These trout are fed a natural, organic fish food, but they get plenty of opportunity to catch the kinds of aquatic invertebrates that make up their natural diet. And, as Fox Harb'r chef Shane Robilliard says, this is one of the few trout farming operations that actually gives back to nature: "There are quite a number of natural predators that feed off these fish, so really we are supporting the environment with this operation."
So when you cast your line, be advised that you may be competing with an osprey.
Cooking Trout
Chef Robilliard tells us, "The fact that we can catch and use these trout as part of our culinary program is just an amazing part of all this. The great thing about trout is its delicate flesh. It has a light, flaky texture with a clean flavour, as opposed to its fattier cousins, salmon and char."
Clean and prepare a trout properly, and you can cook it on a camp stove and really appreciate its singular flavour. And, just in case you're hankering for a delicious trout dish, here's one from chef Robilliard.
Pan Seared Rainbow Trout with Minted Couscous and Brunoise Vegetables
Serves 2
Ingredients
1 whole rainbow trout or two filets of rainbow trout
2 cups light fish stock or chicken stock
Salt and pepper
3 sprigs mint, very finely sliced
2 cups couscous
3 oz all-purpose flour1 tsp finely chopped shallots
4 oz butter
½ yellow bell pepper, finely diced
½ red bell pepper, finely diced
2 oz carrot, finely diced
2 oz green zucchini, finely diced
2 oz yellow zucchini, finely diced
1 oz vegetable oil
Juice of one lemon
2 oz white wine
4 lemon segments (fine part of the lemon between the fibre that holds the lemon together)
Fresh chopped fine herbs
1 Tbsp capers
Edible flowers or micro greens for garnish
Preparation
Step One
If you have a whole trout, you will need to fillet, debone, and dry the two filets of trout. If you are using a filet then you just need to dry it off.
Step Two
To make the couscous, bring stock to a boil and season well with salt and pepper. Add mint and couscous and bring to a boil. Remove from heat, cover, and let stand for 15 minutes.
Step Three
For the filet of trout, make three small incisions into the skin so that the trout doesn't curl when it is put in the frying pan. Season well on both sides with salt and pepper. Dredge in flour on both sides. Heat pan to smoking, then fry with the skin side down until the skin is crisp; then turn over and finish for approximately eight minutes in a 350 degree oven.
Step Four
For the sauce, sauté shallot in 1 tbsp of the butter on medium heat, and then add all the other vegetables once the shallots are translucent. Add oil and lemon juice and simmer until reduced by three-quarters; add lemons, herbs, wine and capers and simmer for one minute. Reduce heat to very low and then add remaining butter, whisking until the butter is incorporated but not simmering. If you boil the butter, it won't emulsify.
Step Five
To serve, spoon the couscous into the middle of the plate, lay the filet on top and then spoon half of the sauce and vegetables on top of the trout. Always serve with the skin side up in order to show off the nice crispy skin. Garnish with edible flowers or micro greens.