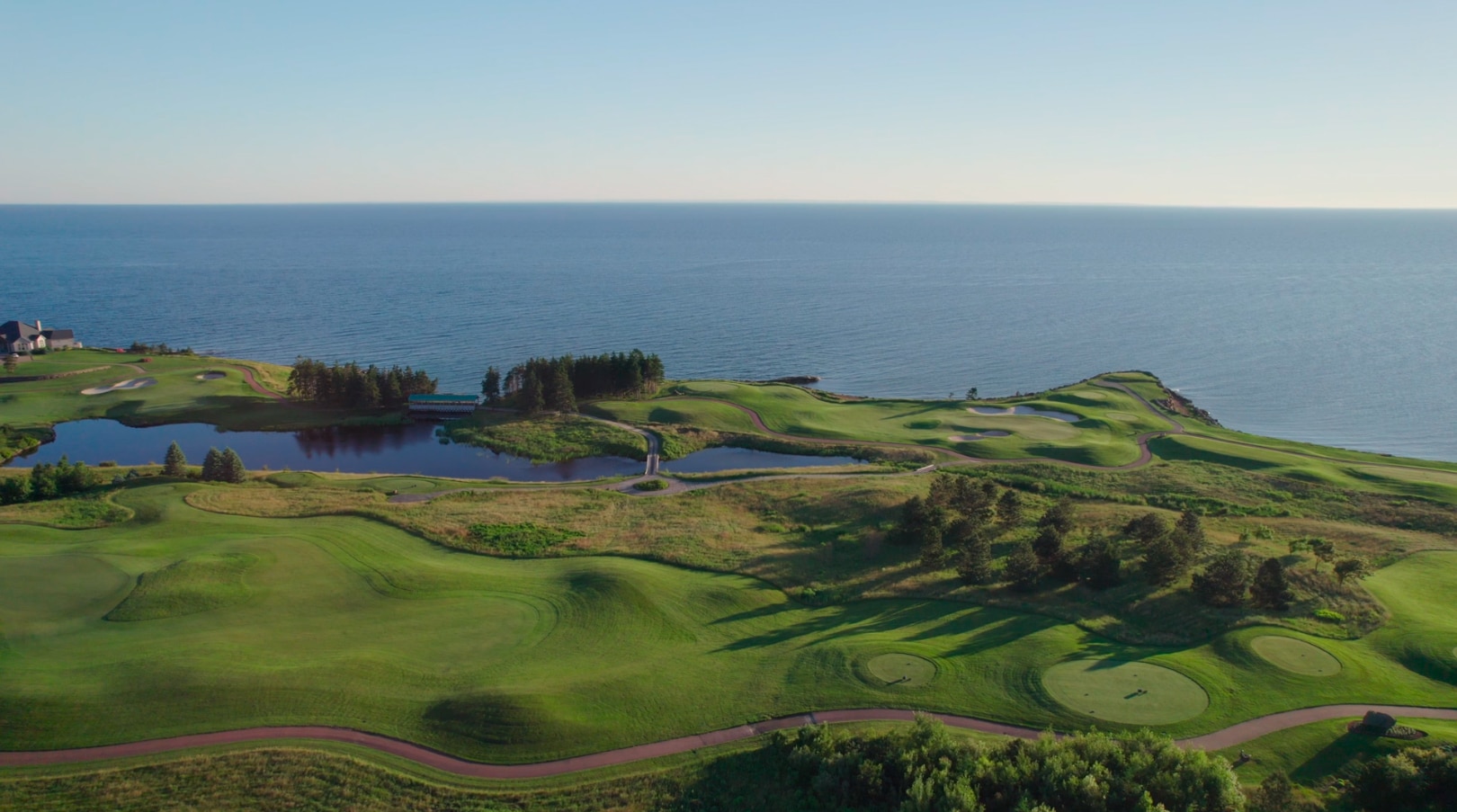 Plan Your Golf Trip to Nova Scotia
Why visit a single golf course for a day or two when you can take a couple of weeks and do an entire golf trip and hit up a dozen courses? That's the logic golfers apply when we set out do to a golf trip, and a beautiful logic it is. If you're looking for a truly excellent golf destination, look no further than Nova Scotia.
Nova Scotia is a world-class destination for golf. There's a long history of golf in the province, as one might expect for a place called New Scotland. If you want a true links-style golf course (that is, a sea-side course with naturalistic terrain), note that the only choices in Canada are in Nova Scotia. For example, Cabot Links or Fox Harb'r are links-style courses.
Many of the most famous clubs were founded before the First World War. These days, there are around sixty clubs in Nova Scotia, though some have more than one course. Clearly that's a lot of golf, even for the most dedicated golfer, so we're going to divide and conquer. Nova Scotia is a surprisingly big province, so let's break it down region by region.
Halifax & Surrounding Area
The Links at Brunello is a Tom McBroom designed course that's just outside Halifax. Come for the spectacular long fairways, stay for the beautiful landscape.
Old Ashburn is another Stanley Thompson designed course. Around since 1922, Old Ashburn is one of Canada's most historic courses. With that said, the bunkers and greens were rebuilt for the modern game in 2018/19. And while you're here, you can try out the "new" Ashburn course. It's only fifty years young.
Glen Arbour is a Graham Cooke designed parkland course that's sandwiched between three lakes and surrounded by trees. Though there is great diversity in the holes, expect to see those lakes as features quite often.
Other great courses close to Halifax include River Oaks, Uniacke Pines, and the Links at Montague.
Cape Breton Island
Cabot Links and Cabot Cliffs are easily the best courses on Cape Breton Island, located in the famous Cape Breton Highlands. You'd be forgiven if you looked out on the rugged and beautiful scenery and though you were actually in Scotland. The Rod Whitman designed Cabot Links is a true links-style course where you'll be challenged by the strong ocean breeze. Designers Bill Coore and Ben Crenshaw are responsible for Cabot Cliffs, which, as the name suggests, is high up on the cliffs. You'll be challenged by the golf, but also by the urge to stop and take in the view.
Cape Breton Links is wedged between the mountains and ocean. Designed by Stanley Thompson, this course has won numerous accolades over its long history. You should make a point to stop by the historic Keltic lodge for a fantastic post-game dinner.
The Lakes at Ben Eoin Golf Club & Resort, designed by Graham Cooke, is known for dramatic elevation changes and, as a result, challenging slopes. Before tackling said slopes, be sure to take a breath and admire the beautiful scenery.
Some other golf courses in Cape Breton Island worth a trip are Bell Bay, Seaview, and Baddeck Forks.
Southern Nova Scotia
Pubnico is a bit of a hidden gem near Yarmouth. It's been around since 1968
Situated along the river Clyde, River Hills lets you play along the river for the front nine. The first part of the back nine is all rock walls and woods, but you return to the river for the final three.
Osprey Ridge is another Graham Cooke creation. Reasonably priced but challenging for all skill levels, expect classic parkland golf with some long drives and undulating greens.
Some other golf courses in southern Nova Scotia worth exploring are Clare, the Bluenose, and Chester.
Annapolis Valley
Digby Pines, another famous Stanley Thompson course, overlooks the Annapolis Basin. If you stay in the resort, expect a historic experience.
Another historic golf club is KenWo. Founded in 1921, KenWo is a friendly place to play right in the middle of the valley.
Berwick Heights is only an hour from Halifax, but is very much a creature of the peaceful and idyllic Annapolis Valley.
Other courses in Annapolis Valley worth a visit are Paragon, Penn Hills, and Parrsborough.
North Shore / Northumberland Strait
Fox Harb'r Resort, the only five-star resort in Nova Scotia, has a truly excellent golf course. But don't just take our word for it. Tiger Woods said so too. Our course is an excellent mix of links and parkland golf. Come 2025, Fox Harb'r will have an entirely links-style golf course designed by Thomas McBroom and Doug Carrick. After that, we're putting together a parkland golf course near our vineyard.
Amherst is a fairly open course noted for its views of the Tantramar marsh. The current course has been active since 1970, but there's been golf at Amherst since 1909.
Wallace River is, by contrast, a young course. This 9-hole course has only been around since 2017, but the Weeks family have been building it for 19 years. It's truly a labour of love and something different than many of the other courses.
Other courses you might enjoy on the North Shore are Antigonish, Northumberland Links, and Abercrombie.
Getting Here
Chances are, you'll be flying in. Halifax International Airport regularly receives flights from all over Canada and also has seasonal flights from places such as Frankfurt, Boston, Tampa, Orlando, Cancun, and more.
If you have your heart set on Cape Breton Island, remember that you can fly into Sydney.
If you're arriving by private jet, note that Fox Harb'r operates a jetport.
It's easy to drive to Nova Scotia. If you're coming from the US, the high speed CAT ferry travels between Bar Harbour, Maine, and Yarmoth, Nova Scotia in three and a half hours. You can, of course, drive in from New Brunswick. Many drives in Nova Scotia are notably beautiful, especially the scenic Cabot Trail highway.
Also worth mentioning: you can get here by train. Noted for its beautiful views (we promise we're not overemphasising that point—the scenery here really is incredible), Via Rail's The Ocean train travels between Montreal and Halifax, stopping in places such as Rivière-du-Loup, Campbellton, Bathurst, Moncton, and Amherst. The journey will take you a day and a night.
What Makes Nova Scotia Golf So Special?
As you may have gathered, the ocean is a formidable challenge in many Nova Scotia golf courses. The world's largest water trap also provides stiff breezes that might aggravate you (protip from Elliott Isenor, Director Golf Operations: keep your ball low), and views that will inspire you.
But you'll also find peaceful nature, challenging drives, courses with serious elevation changes, and some of the most beautiful scenery in Canada. Also the best lobster in the world. And in Nova Scotia, we're spoiled for choice when it comes to great golf.