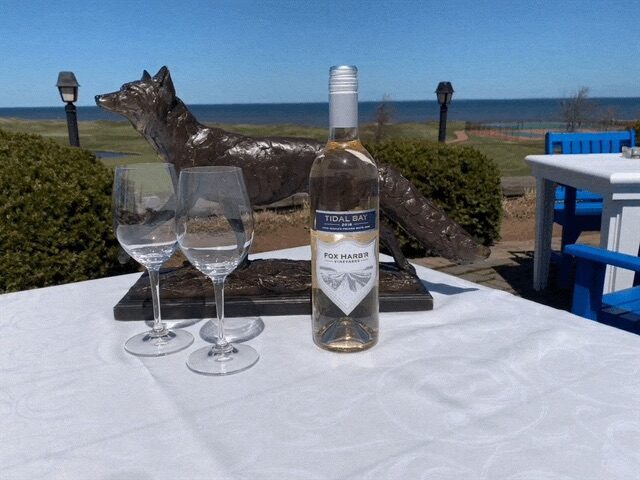 2018 Fox Harb'r Vineyards Tidal Bay, Wallace, Nova Scotia
Tidal Bay is Nova Scotia's first and only appellation for white wine. As a matter of fact, it is Canada's only appellation wine! Of the 25 wineries in Nova Scotia, Fox Harb'r is the lucky thirteenth to produce a Tidal Bay. This vintage was created by Gina Haverstock, winemaker from our partners at Devonian Coast.
Now that Fox Harb'r Resort is open for the 2019 season, the food and beverage team are reviewing different wines every Wine Wednesday.
We tasted Fox Harb'r Tidal Bay shortly after its release and again this week to discover it is evolving and integrating in the bottle even over this short period of time. Our blend is 65% L'Acadie Blanc, 21% Riesling and 14% Muscat all harvested from our own vineyard just outside the front gates.
On the nose, a month ago Riesling was very evident expressing steeliness and minerality, also aromas of apple, pear, stone fruit (peach) and apricot. Now it is a hint buttery with pear and apricot still.
The palate in May had a crisp acidity, a bit of salinity, steely, kiwi and star fruit. Now, the tropical fruitiness that Muscat contributes has toned down and integrated into peach and pear flavours.
The finish still has a cleansing acidity and lovely minerality.
With food, our Tidal Bay is excellent with canapés, appetizers and seafood / shellfish. We especially thought of nearby Malagash oysters and trout caught daily in our resort trout ponds.
2018 Fox Harb'r Vineyards Tidal Bay is low yeild and available exclusively at our resort.
---
Avery Gavel the sommelier at Fox Harb'r. An industry veteran with over 30 years of experience, Avery is a member of the International Sommelier Guild and can be found on Instagram under the handle @sommace.
The Fox Harb'r award-winning wine list contains over 540 selections and we're very excited to add the first from our own vineyard in 2019. With his keen knowledge of the wines of the world, Avery is constantly on the look out for just the right wine for our list.