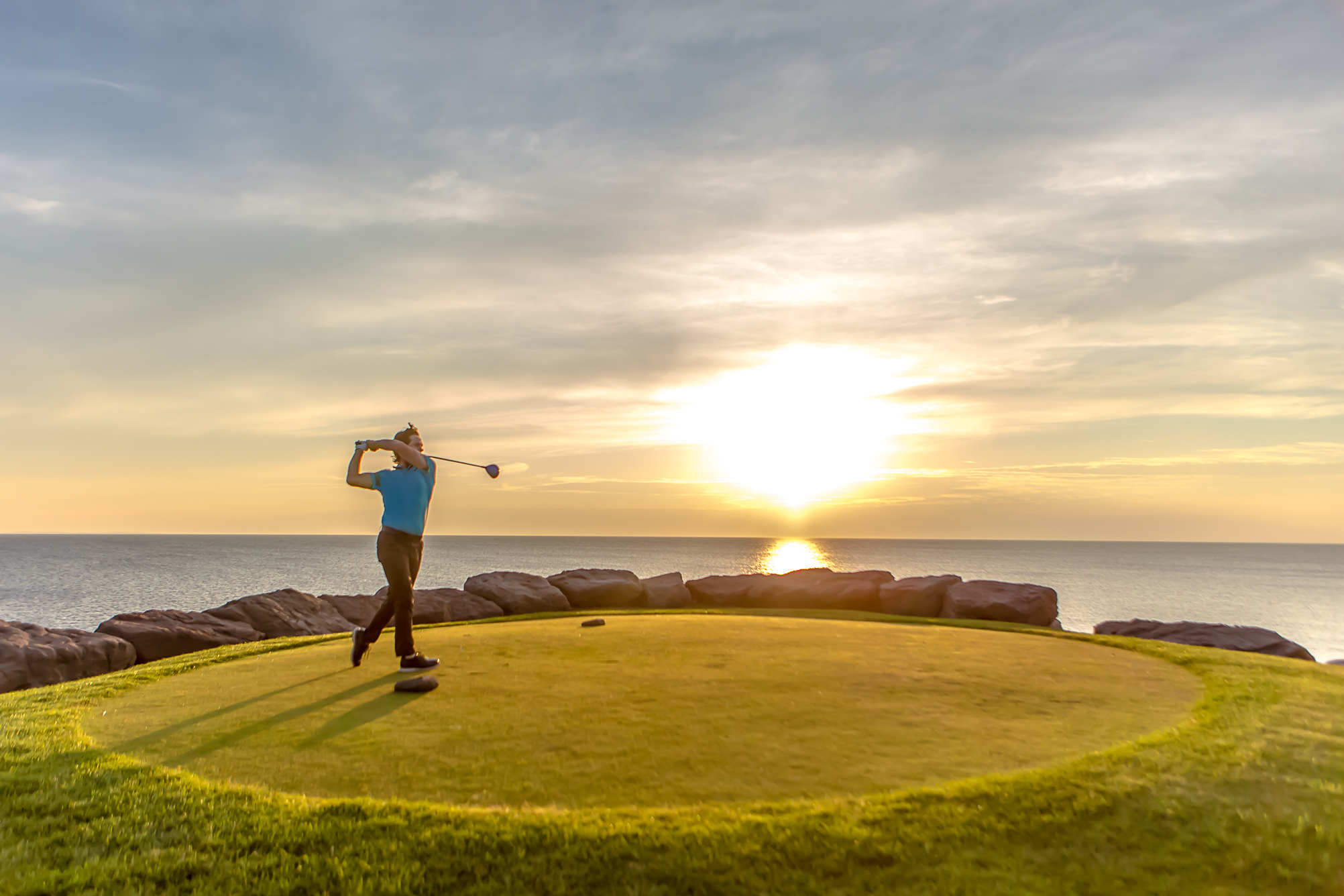 Three Sure-Fire Ways to Improve Your Golf Game
Here's a little secret: most golf courses aren't real links.
We know, we know. Lots of people refer to any golf course as links. But they're mistaken. A true links course is the oldest style of golf course. Basically, imagine the rugged coast of Scotland, where the game originated, and you're picturing a true links course. Dunes, an undulating surface, and the world's biggest water trap, otherwise known as the ocean—these are the elements of a true links course.
At Fox Harb'r, the outward nine is pure parkland golf. Sheltered forests, lots of wetlands, and rock-lined lakes make for a picturesque backdrop for your experience. But the back nine is pure links.
Why blend the two styles? According to Elliott Isenor, Director Golf Operations at Fox Harb'r, it gives you two completely different nine holes. Parkland focuses more on driving the ball straight. The back nine, the Scottish links golf, is all about keeping your ball low and away from the ocean.
So how do you tackle such a challenge? We have a few tips.
Keep Your Ball Low
With a true links course, your number one adversary is the wind. If you want to avoid letting the wind take your ball on a first-class trip to the ocean, you want to keep it low. Choke down on the club. About halfway down the grip is good. Move the ball back in your stance. Lean slightly forward. Keep a forward body position during impact and make sure to follow through.
Practice Your Short Game
The best way for any golfer to get better is practise their short game – lower your putts and chips and you will see your score go down, says Isenor. When you chip, keep your hands soft. Make sure you aren't scooping at impact. Keep your head still by looking at a dimple on the back half of the ball, and hit the dimple with the centre of your clubface. Make sure you're hitting as solidly as possible by rotating when you swing.
Practice longer putts so you can avoid three-putts. When putting for distance, keep your hands light. For shorter putts, make sure you aim your putterface first and only then take your stance. Once you're in your stance, keep it. Swivel your head, not your body, to track the ball.
Stay in Play
Let's state something a little obvious: penalty strokes add up. And in a links course, the chances for penalties abound. So what should an experienced player do? According to Isenor, "Practise driving the ball in play, focus on keeping your ball in play, and cut down on penalty strokes."
Bonus Tip
We can't help ourselves, so here's a golf tip specific to our course at Fox Harb'r. On the first hole, Isenor advises that you "hit the ball down the left side of the fairway. You will save yourself 50 yards on your next shot."
Check out our Stay and Play Golf Package here.