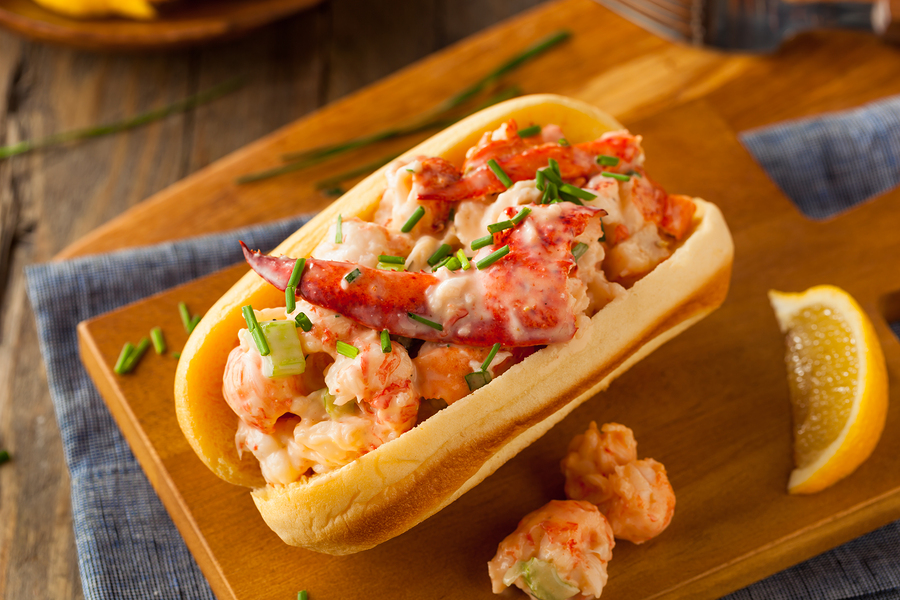 The Humble History of the Lobster Roll
This is the genius of the lobster roll: it puts one of the most delicate, luxurious, delicious meats into a simple roll. A lobster roll is a marriage of the decadent with the practical, which is a pretty impressive feat for a sandwich.
The Lobster Roll Dates to the 1890s
Lots of restaurants like to claim the lobster roll for their own, but credit must go to lobster fishermen in the 1890s. According to Sandra Oliver's book Saltwater Foodways, lobster fishermen at the time kept their catch in "lobster pounds," which were natural coves penned off in the same way a rancher might keep livestock (visit us on the Northumberland Shore to see real working pounds). Practically minded fishermen would boil a few lobsters when their pens got full, put the meat on rolls, and sell their lobster rolls to tourists.
Why a roll? Well, there were a few reasons. Lobster is delicate and the meat falls apart easily. If live lobsters should be corralled in lobster pounds, then cooked lobster should be corralled in rolls. And, as anyone who's cooked lobster knows, it can be tough business getting lobster out of its shell. While today's diners are armed with shell breakers and uniformed with bibs, well-heeled tourists of the Edwardian period were a touch daintier in their dining habits. Oliver points out that the lobster roll was a polite way for tourists to eat lobster. And of course, a lobster roll is the ideal way to eat lobster as a roadside snack.
Lobster Rolls Hit the Big Time 
So how did lobster rolls go from a regional specialty of the North Atlantic to a viral sensation found on cooking shows or in food trucks, and featured on menus hundreds of miles from where lobsters actually live? Blame New York.
Were it not for chef Rebecca Charles, those of us not fortunate enough to live down the road from a lobster fisherman might never have heard of the lobster roll. Charles opened a New England–style restaurant called Pearl in Greenwich Village in the nineties. She and her team were steaming and picking 1,500 pounds of lobster a week and loading that lobster onto buns, all at a time when lobster was considered more of a white-tablecloth meal. New York, of course, is home to many major food and travel magazines, and Pearl's lobster roll was featured in many.
That said, the New York press has been missing out on something special. As it says in the Oxford Companion to Food, "In N. America, it is the Maine lobster which is most famous; but this fact seems merely to reflect the hard work put in by Maine publicists. The Canadian catch is more than twice the size of the United States one, and the southern part of the Gulf of St Lawrence is the richest lobster-breeding ground in the world."  (Here at the Fox Harb'r Resort, we are fortunate to be close to some of the world's best lobster fishing.)
As with Many Things in Life, the Best Lobster Roll Is the Simplest
Now, the lobster roll is a bona fide trend, with flourishes like bacon, avocado, brioche buns, and more. But, as Shane Robilliard, executive chef at Fox Harb'r Resort says, "There is something about a perfectly fresh soft white bun stuffed with so much lobster that you can't even get another piece in there." So keep it simple. Here's Chef Shane's recipe.
Fox Harb'r Resort Lobster Roll
Ingredients
1 ¼ lb(s) (565 g) Nova Scotia lobster, bands removed
2 Tbsp (30 mL) mayonnaise
1 tsp (5 mL) lemon zest (done on the microplane, extremely fine)
1 Tbsp (15 mL) lemon juice
1 Tbsp (15 mL) chopped chives
1 artisan-style hotdog bun (the softest white bun you can find)
salt & pepper to taste
Preparation
Step 1: In a stockpot, bring water to boil. Add live lobster; cook for about 8 minutes, until lobster is bright red. Remove and plunge into an ice-water bath to cool quickly. Crack and clean all lobster, chop into ¼-inch cubes.
Step 2: In a bowl, mix together mayonnaise, lemon zest, lemon juice, and chives. Stir in lobster meat and season with salt and pepper.
Step 3: Butter the inside of the bun and lightly toast it in a large-bottomed frying pan (preferably cast iron). Make sure the outside stays as soft as possible.
Step 4: Place lobster mixture in warm, toasted bun and serve immediately. Enjoy!