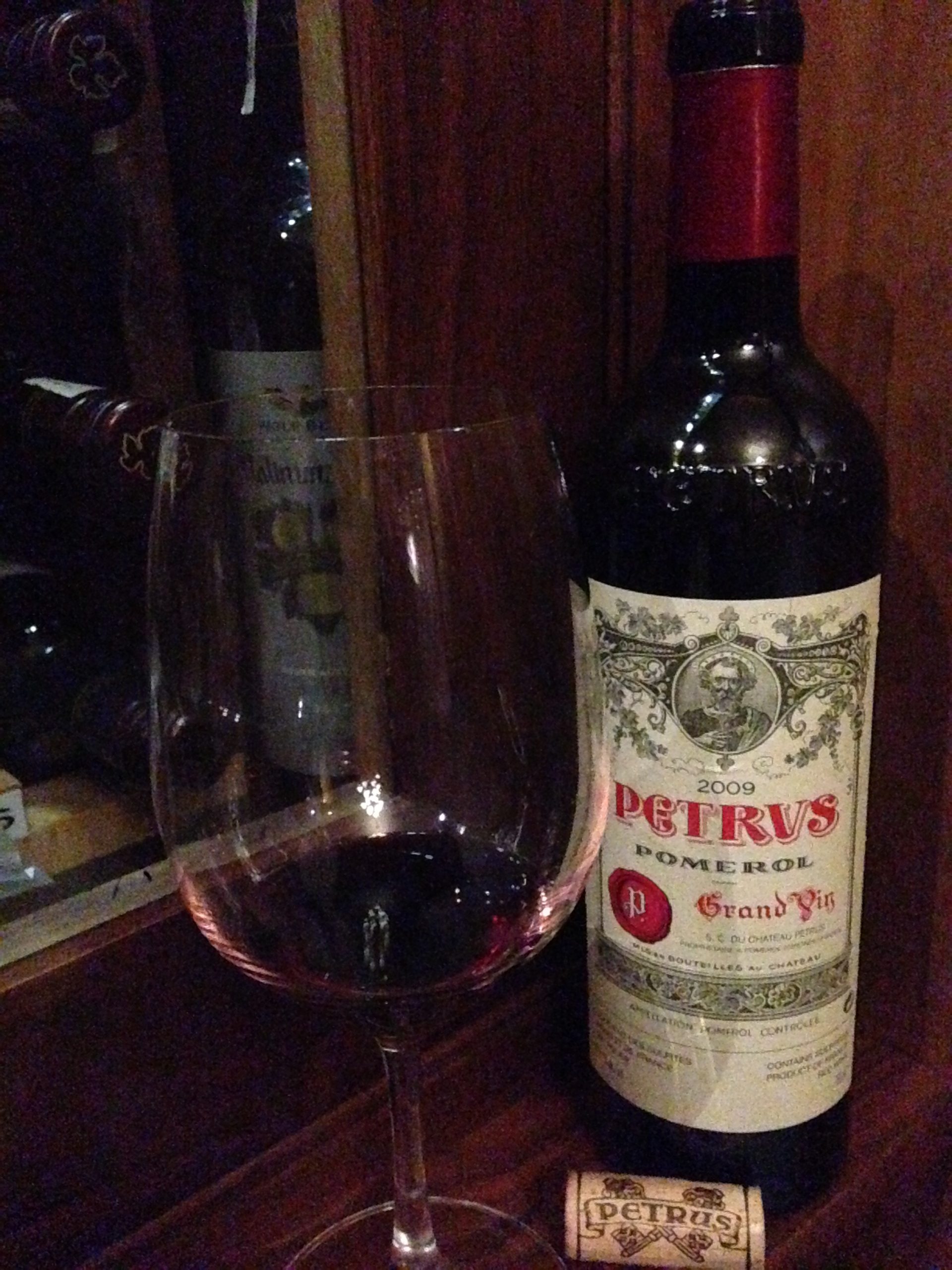 Pétrus is on a hilltop also named Pétrus. The 28-acre estate is a plateau in eastern Pomerol next door to Saint-Émilion. The soil is unique, with topsoil of clay and a subsoil of impenetrable blue clay that never erodes. In the wine, this clay is responsible for generous but soft tannins. In 2010 the 12-plot estate became 100% merlot. Before that, 5% was planted with cabernet franc. Vines are on average 45 years old. 50% of each vintage is aged in new French oak for 12-16 months before being blended.
Pétrus, along with Le Pin, rank among the world's most expensive wines. Quality is uncompromising and thus 1956, 1965 and 1991 had no vintages. Pétrus was one of the first in Bordeaux to green harvest, pruning off green bunches of grapes creating lower yields with higher quality and concentration of flavours. Harvesting is only done by hand. This Pomerol treasure earns scores of 96-100 depending on the vintage and wine expert. Robert Parker gave 100/100 to the 2009 and 2010 vintages.
I, along with several of the Fox Harb'r team, was lucky enough to taste the 2009 vintage and this is what I thought. The blend is 98% merlot and 2% cabernet franc.
On the nose are many discrete layers of cassis, black cherry, red and dark berries, dusty rose, old wood that reminds me of the inside a piano, lovage, and a hint of a vegetal note.
Elegant nuances of the nose follow through to the palate. Balanced soft tannins and acids give a cleansing mouthfeel. Still youthful and juicy, there are flavours of sweet tobacco, discrete mahogany, plum, and sweet grain mustard. Day two brought a suggestion of stewed strawberry.
Tannins linger on the finish accompanied by mahogany, violet and rose petal.
Along with the 2009, Fox Harb'r cellars the 2008 and 2010 vintages.
2008 is 95% merlot and 5% cabernet franc. It is more closed and has higher tannins with fruit more fresh and ripe. 2008 is less ready to drink now than the 2009.
2010 is 100% merlot. It has a similar flavour profile to 2009 but is also earthy and masculine, expressing some minerality, mulberries, and truffle. To not compromise quality, this vintage yielded 10% less production than 2009.
Food pairings can be classic meat dishes that are roasted, braised, or grilled (veal, pork, beef, lamb, duck, chicken or game) with pasta and/or mushrooms. Asian cuisine will work, as will hearty fish courses.
---
Avery Gavel the sommelier at Fox Harb'r. An industry veteran with over 30 years of experience, Avery is a member of the International Sommelier Guild and can be found on Instagram under the handle @sommace.
The Fox Harb'r award-winning wine list contains over 540 selections and we're very excited to add the first from our own vineyard in 2019. With his keen knowledge of the wines of the world, Avery is constantly on the look out for just the right wine for our list.