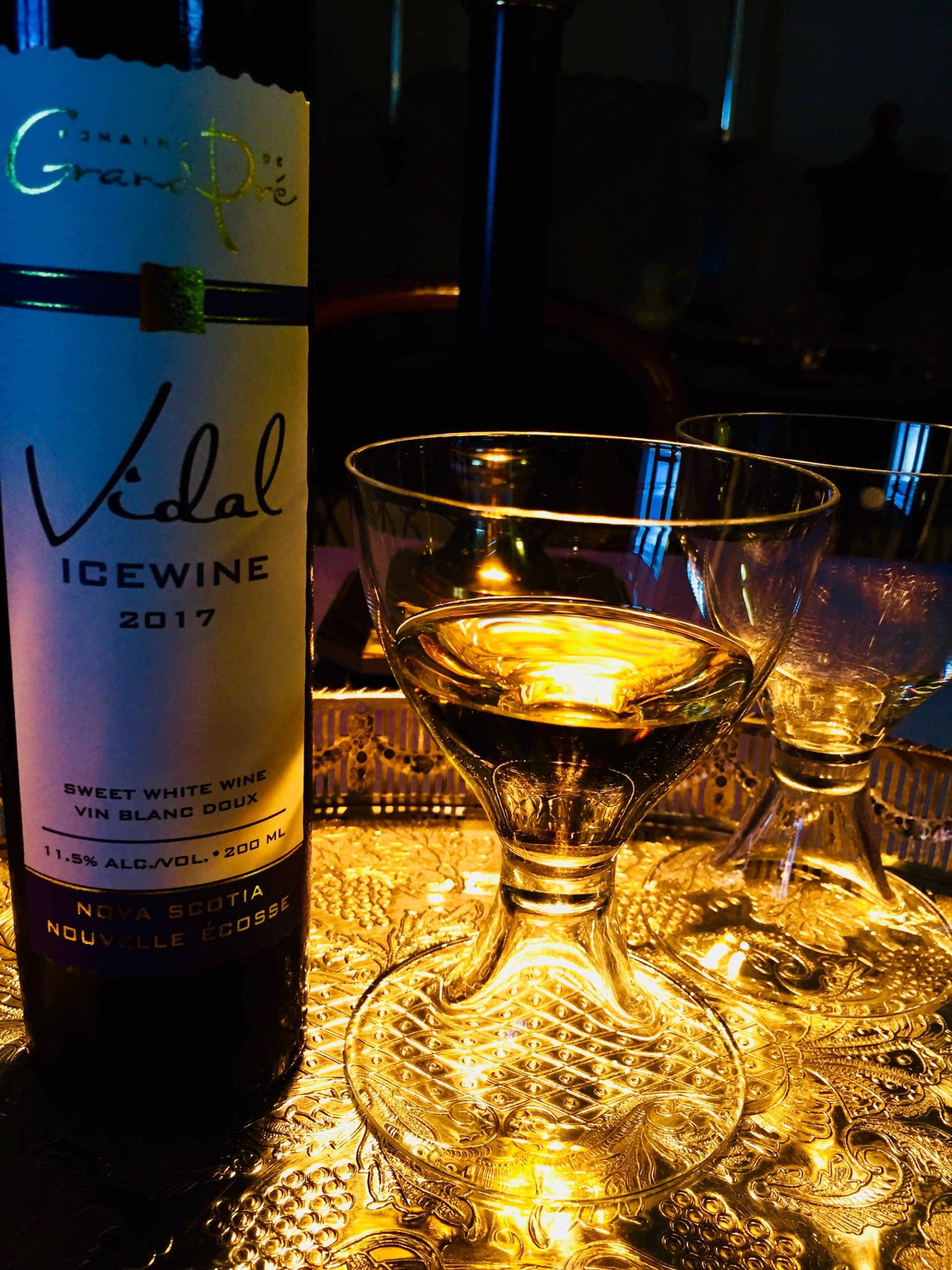 2017 Vidal Icewine, Domaine de Grand Pré
Icewine is the result of juice from grapes frozen and harvested at temperatures between -8 and -12C for at least eight consecutive hours. Freezing concentrates the juice and its sugars to a drop of liquid gold in the centre of the grape. Icewine was first bottled in Germany as Eiswein. However, Canadian winters are ideal for producing icewine and Nova Scotia is unparalleled.
In this case, the grapes were harvested in the Gaspereau Valley of the Annapolis Valley.
The appearance is a crystal clear shimmering pale gold.
On the nose, there are aromas of orange and honeysuckle.
The palate delivers a crisp acidity, which balances sweet flavours of apricot with lemon overtones and Poire belle Hélène still in the syrup before the chocolate.
Food pairings can either contrast or match weight and flavours. You can do sweet wine throughout a meal, just don't go too light with the food.
If you like to contrast sweet with salty, this wine pairs well with briny oyster, either baked with butter and herbs, with bacon, or just plain raw. Foie gras is a classic pairing. Good acidity and discrete orange flavours will compliment duck a l'orange. Blue cheese is another classic pairing. Dessert is the expected pairing, provided the dessert is less sweet than the icewine.
Just because they were both in front of me, I had this Vidal icewine with a savoury homemade chicken soup seasoned with lots of herbs. It was a brilliant pairing and especially pulled the sweet basil flavours out of the soup.
I also got to enjoy the Domaine de Grand Pré Vidal Icewine in Royal Dutch Leerdam Crystal from the estate of the late Mona Parsons. Mona Parsons was an Annapolis Valley-born actress, nurse, and war hero during the Dutch resistance. She loved to entertain lavishly before and after WWII and these glasses were part of her collection.
---
Avery Gavel the sommelier at Fox Harb'r. An industry veteran with over 30 years of experience, Avery is a member of the International Sommelier Guild and can be found on Instagram under the handle @sommace.
The Fox Harb'r award-winning wine list contains over 540 selections and we're very excited to add the first from our own vineyard in 2019. With his keen knowledge of the wines of the world, Avery is constantly on the look out for just the right wine for our list.