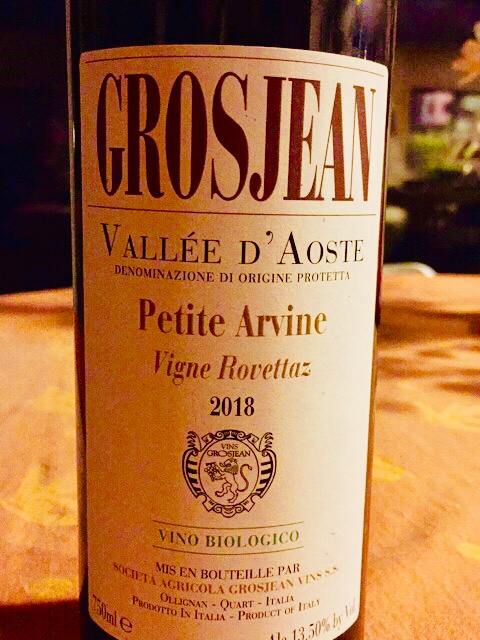 Grosjean, Petite Arvine 2018
It is always exciting to explore an off-the-beaten-track wine and Petite Arvine fits the bill.
This white grape only grows in Valais, Switzerland and Vallée d'Aoste DOC which has the highest elevated vineyards in Europe. Situated in the extreme northwest Italy just north of Piedmont and surrounded by the Alps. Because of such high elevation, Phylloxera never hit this region when the aphid destroyed most grape vines worldwide.
Grosjean was a farming family raising cattle, chestnuts, and grapes to make wine for the family table. Their exceptional quality wine became recognized and the vineyards as well as winery expanded into another family business that is now run by the third generation. Practicing sustainable farming techniques, Grosjean is now certified biodynamic and ferments using natural yeasts. The Petite Arvine is grown in Rovettaz Vineyards at 700 metres elevation.
This 2018 is straw-yellow in appearance with "lazy legs" slowly running down the glass.
Fragrant aromas of citrus (grapefruit), honeysuckle, pear, apple, stone fruit, pineapple, and a hint of butter.
Flavours follow through quite consistently with the nose. There is also a bit of minerality and a hint of spicy smoke. This wine is dry to off-dry with a good acidity which balances such a rich and honeyed wine. The winemaker gave an extended contact with yeast lees and malolactic fermentation, which explains the medium to full body of such a high elevation mountain wine.
Great pairings could be pre-dinner nibblies, white meat, and fish. I had it with fishcake-style turkey burgers and roasted veggies. It was all delicious!
Grosjean, Petite Arvine is available on our wine list at Fox Harb'r and retails in Nova Scotia at Bishops Cellar, Halifax.
---
Avery Gavel the sommelier at Fox Harb'r. An industry veteran with over 30 years of experience, Avery is a member of the International Sommelier Guild and can be found on Instagram under the handle @sommace.
The Fox Harb'r award-winning wine list contains over 540 selections and we're very excited that we added the first from our own vineyard in 2019. With his keen knowledge of the wines of the world, Avery is constantly on the look out for just the right wine for our list.