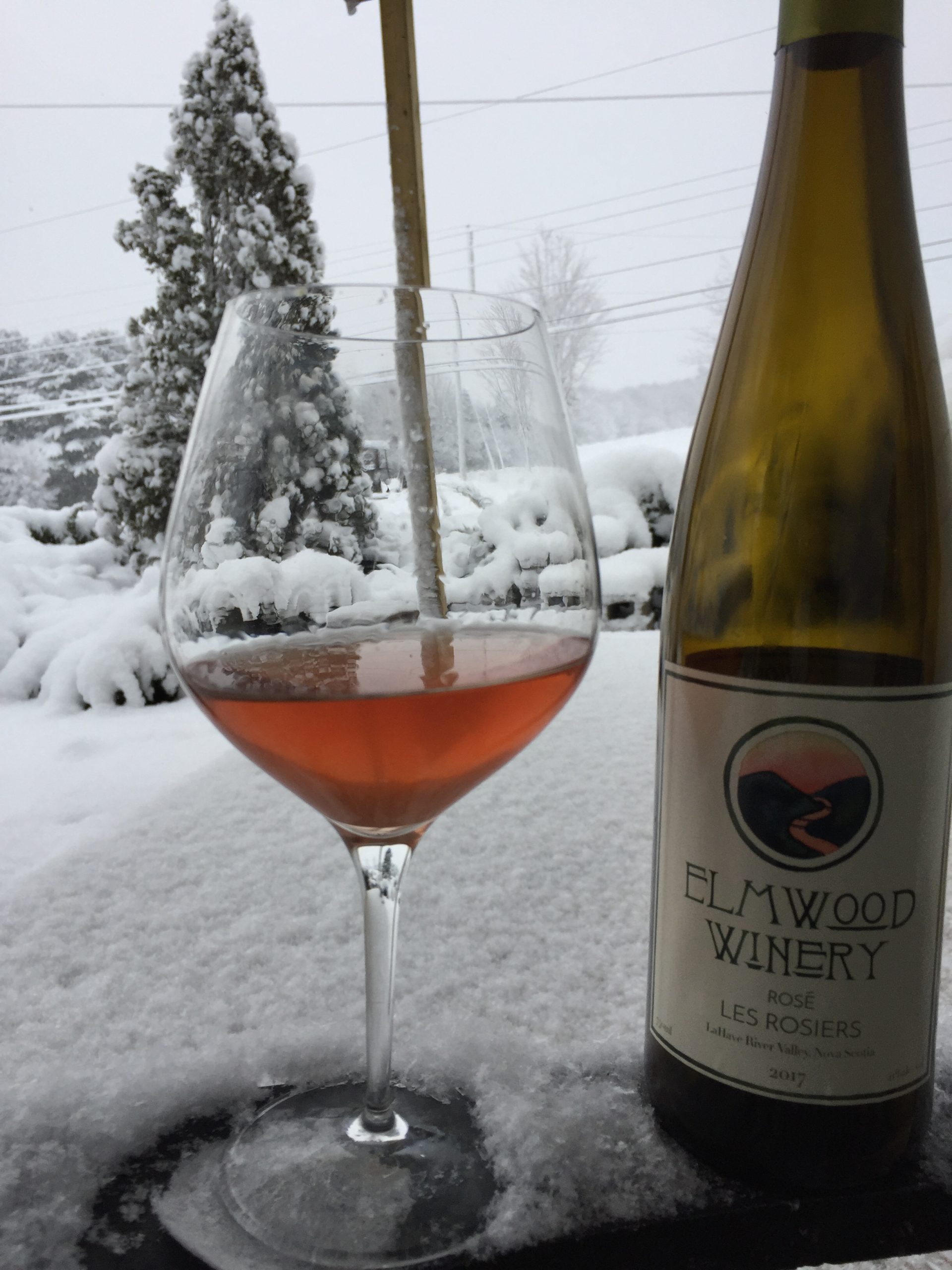 Les Rosiers, Elmwood Winery
While driving to Walmart in Bridgewater, Nova Scotia, I noticed a sign pointing to a winery that I did not know existed. Although Elmwood Winery was closed for the season, the owners, Heather and John Cartwright, graciously invited me in. From their impeccably maintained organic (not certified yet) vineyard, I drove away with an L'Acadie blanc and this rosé, Les Rosiers, blended with the unusual combination of baco noir, muscat, L'Acadie blanc.
The appearance is beautiful peach or salmon. I think muscat is more responsible for the colour than the baco noir.
The nose has notes that are mineral, peach, savoury stew or chicken soup, and hint of lemon citrus. Day two brought out aromas of new wood (think woodworking shop) and floral notes. Day three showed over-ripe apple and barley candy.
The palate is dry, with good acidity and crisp, short-lived tannins. There is a savoury minerality. Even though baco is the dominant grape, I believe L'Acadie to be the matriarch, keeping the two strong-willed kids in check. It usually takes very little muscat in a blend to make its presence known, but here the floral nose is discrete and grapefruit did not show up for me until day two. It is juicy citrus (grapefruit and lemon). Day three brought an additional juicy apple component.
A great stand-alone-wine, winemaker Alex Beaulieu-Boivin suggests pairing this wine with seafood, salads, and pizza. The bit of malolactic fermentation allows for some weight in seafood dishes like pasta and cream sauces.
Les Rosiers may be found at The Winegrunt in Windsor, Nova Scotia and at the winery itself from June to October.
---
Avery Gavel the sommelier at Fox Harb'r. An industry veteran with over 30 years of experience, Avery is a member of the International Sommelier Guild and can be found on Instagram under the handle @sommace.
The Fox Harb'r award-winning wine list contains over 540 selections and we're very excited to add the first from our own vineyard in 2019. With his keen knowledge of the wines of the world, Avery is constantly on the look out for just the right wine for our list.