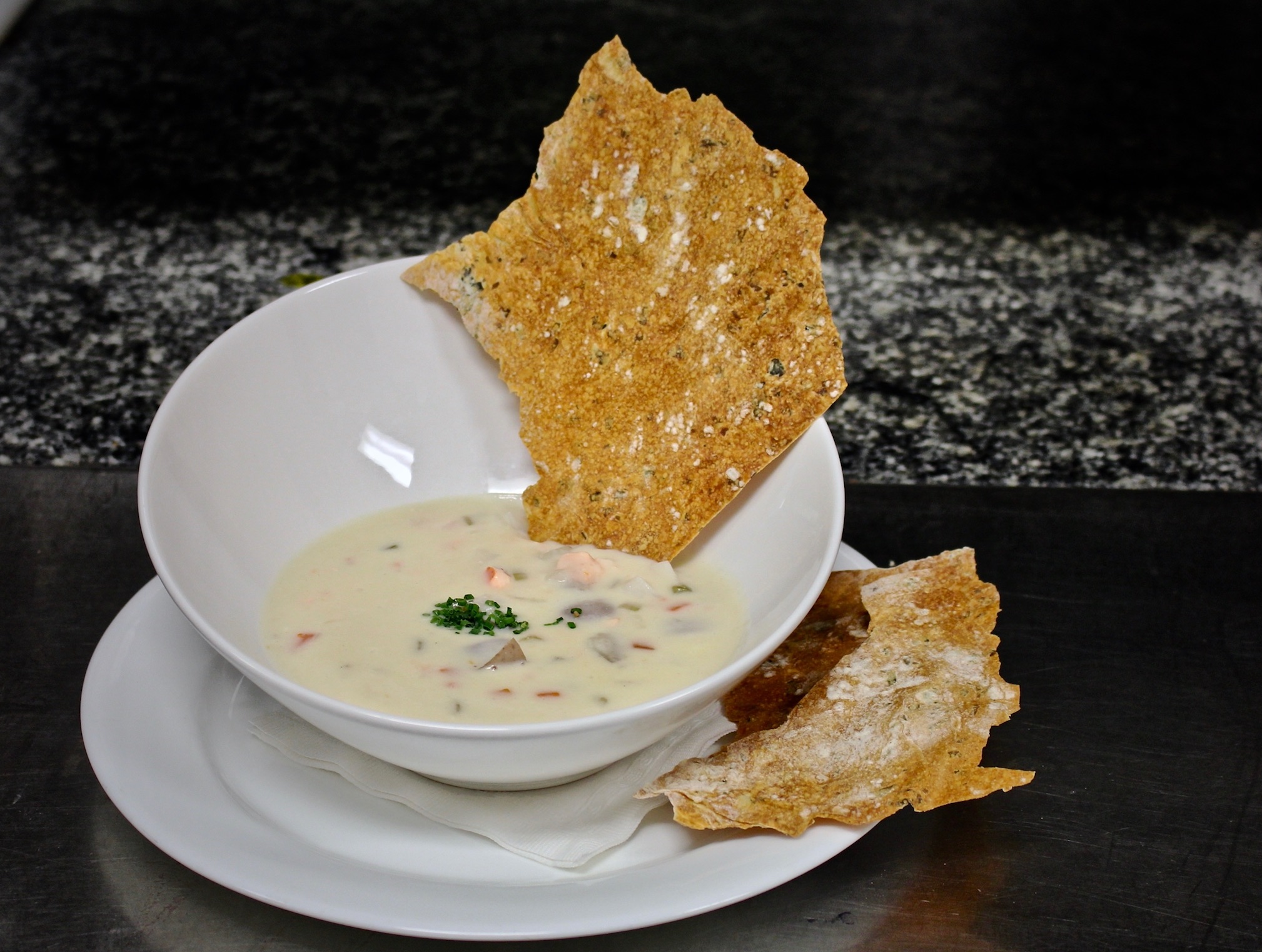 Nova Scotia Quahog Chowder is Delicious
So now that you know everything about quahogs, it's time to talk about how to eat them. Shane Robilliard, executive chef at Fox Harb'r Resort, says that the Northumberland Shore variety of quahog is "beautiful in soups, as part of a sauce for other dishes, and just steamed on their own."
The secret to steaming quahogs? Don't steam too many at once. Fill the bottom of the pan you're using but don't pile more on top. It makes it easy for your quahogs to open.
But allow us to propose this fragrant quahog chowder from Chef Shane.
First step is to get yourself a nice full-bodied oaked Chardonnay. According to our resident sommelier at Fox Harb'r (also Chef Shane), it pairs nicely with a creamy dish like this.
Armed with your chardonnay, it's time to cook this delicious quahog chowder. Enjoy!
Quahog Chowder Ingredients
30 quahogs, preferably from the Northumberland Shore, soaked and scrubbed
5 bacon slices, chopped
6 tablespoons butter
1 yellow onion, diced
1 celery stalk, chopped
1/2 teaspoon fresh thyme leaves
6 tablespoons flour
4 medium potatoes, diced
2 cups heavy cream
1 cups milk
Butter
Quahog Chowder Preparation
Step 1: Bring 2 cups of water to a boil in a large soup pot or Dutch oven over medium heat. Add clams; steam 7 to 8 minutes or until shells open. (Discard any that do not.) Remove clams from pot with a slotted spoon. Strain liquid through a fine wire-mesh strainer, reserving 4 cups. Remove clam meat from shells, and coarsely chop.
Step 2: Cook bacon in soup pot over medium heat about 8 minutes or until crispy. Remove bacon from pot with a slotted spoon, and drain on paper towels. Discard pan drippings.
Step 3: Melt 6 tablespoons butter in soup pot over medium heat. Add onion, celery, and thyme; cook, stirring occasionally, 10 minutes. Add flour; cook, stirring often, 2 to 3 minutes. Add reserved clam liquid; cook, stirring often, 5 minutes. Add potatoes, reduce heat to low, and cook 20 minutes or until potatoes are tender.
Step 4: Add cream and milk; bring to a simmer. Cook, stirring often, until slightly thickened. Add bacon and chopped clams; cook 3 minutes or until heated through. Ladle your quahog chowder into bowls, and top each with a pat of butter.