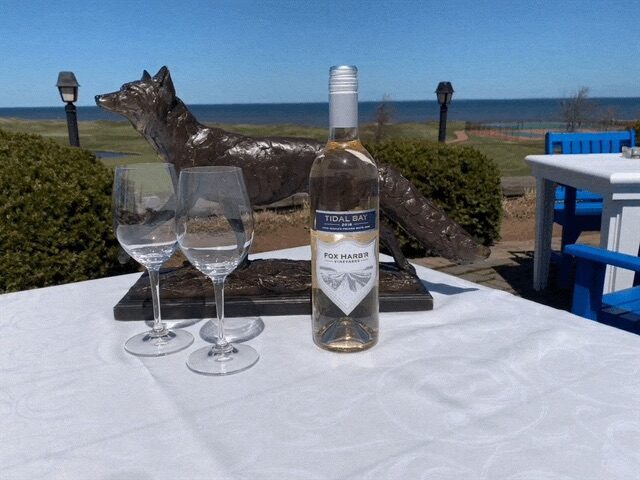 Our Take on the Tidal Bay Wine Appellation
Here's a little secret: Nova Scotia has been producing wine for almost 100 years.
That's right, Nova Scotia. It's a province better known for fishing, lighthouses, and all things maritime. And it's literally called New Scotland, which might lead one to assume that it's not so different from that other Scotland.
Nova Scotia's Own Grapes
But the truth is that grapes have been grown in Nova Scotia since the 1600s and varietals suitable for wine started to be planted nearly 100 years ago. These days, there are more than 70 grape growers and two dozen wineries in the province. On top of that, the province plans to double that number. As Shane Robilliard, executive chef, sommelier, and director of food and beverage at Fox Harb'r puts it, "We certainly aren't the Barosa Valley, but the wine industry in Nova Scotia is growing at a great pace."
Now let's talk about another little Nova Scotia secret: L'Acadie Blanc. Growing grapes in Nova Scotia is tough. It's full of clay soil that is acidic, things get pretty wet in the spring, and much of the year sees a cool climate. The Nova Scotia grape grower's response to this is L'Acadie Blanc. Robilliard says that L'Acadie's acidity "makes it perfect as a food wine."
Nova Scotia's Own Appellation
Thanks to the massive growth in the Nova Scotia wine industry and the fact that L'Acadie Blanc and many of the other grapes grown in Nova Scotia aren't found in other parts of the world, Nova Scotia created it's own appellation: Tidal Bay. Launched in 2012, Tidal Bay allows Nova Scotia wineries to produce a common wine and benefit from marketing a wine similar in style across the Nova Scotia wine industry. When buy any of the varieties of Tidal Bay out there, you can expect notes of fresh green fruit, acidity, and minerality. All Tidal Bay wines must be made from specific grapes, all of which are 100% Nova Scotia grown, and these standards are enforced by a committee of sommeliers, winemakers, and other experts.
So with all that amazing activity going on in the world of wine, Fox Harb'r decided to start our own vineyard in order to make our own version of Tidal Bay. There have been some tremendous lessons learned along the way, but the results speak for themselves.
Tasting Notes
Fox Harb'r's edition of Tidal Bay is a mix of 65% L'Acadie Blanc, 21% Riesling, and 14% Muscat, coming to 11% ABV. On the nose you'll find notes of apple, pear, peach, apricot, and some minerality. The palate is marked by crisp acidity, a bit of salinity, steely minerality, and tropical flavours of kiwi and starfruit. The finish is clean and cleansing.
Chef Robilliard's favourite thing about Tidal Bay is that it's designed to be both a great food wine and wonderful to sip all by itself. He says, "It works well in so many different applications and I love the versatility of it."
If you want to pare it with food, look no further than some wonderful Nova Scotia seafood. Chef Robilliard recommends scallops, "The wine is quite rich with many nice ripe flavours and the rich flavours you get from properly searing a scallop pair perfectly with it."