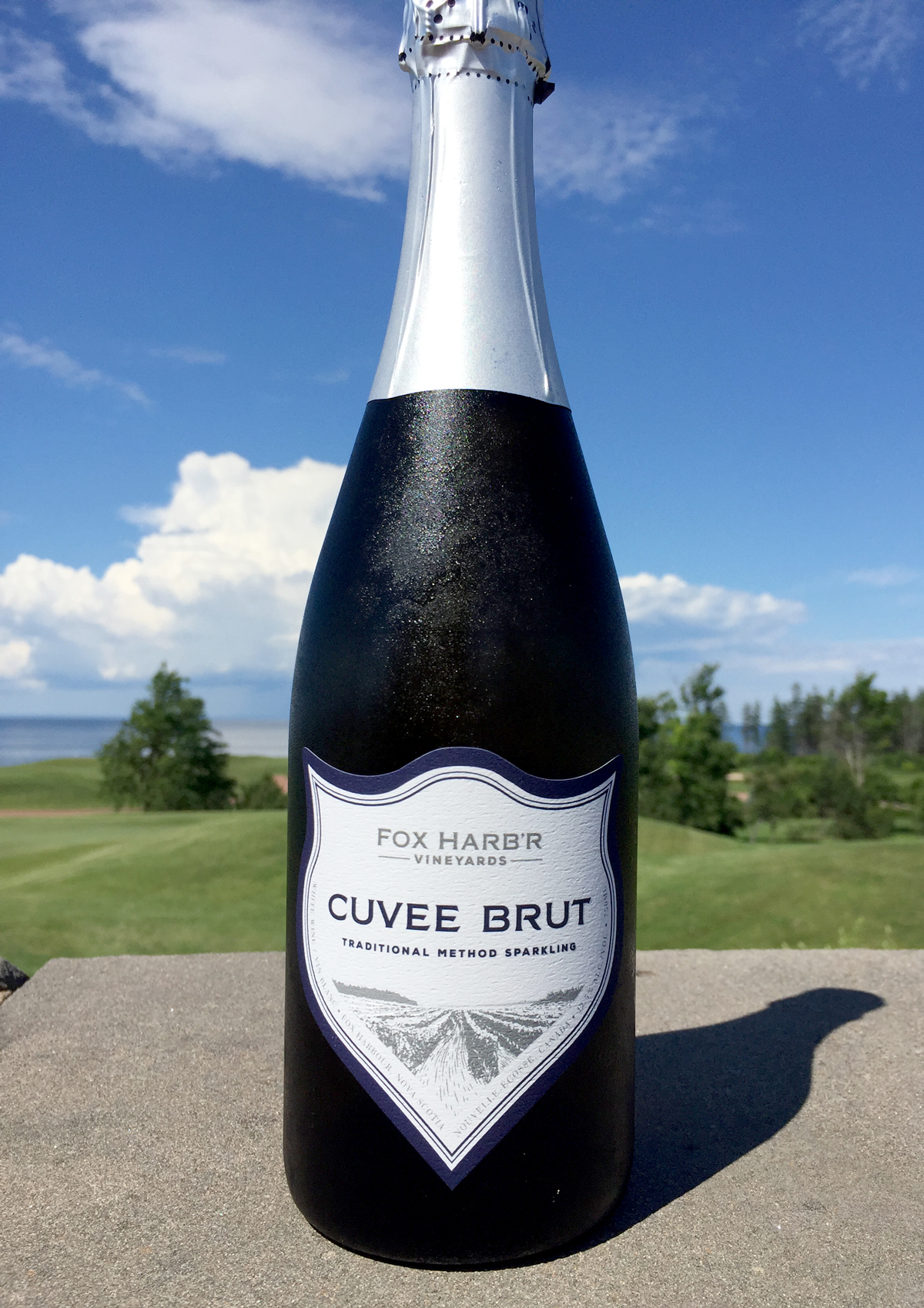 This bottle of "bubbles" is the toast of the town! Our Fox Harb'r label of sparkling wine is made in the traditional Champagne method: the second fermentation taking place in the bottle. The grapes all come from our estate vineyard located just outside the front gates of our Resort. Gina Haverstock of Devonian Coast Wines is the winemaker, and we are so proud of what she has done with our Non-Vintage Fox Harb'r Cuvee Brut.
The blend is from the oldest grapes in our vineyard, 64.5% Riesling, 35% L'Acadie Blanc, and .5% New York Muscat in the form of the dosage (unfermented juice added to top up the bottle just before the final corking). Our non-vintage blend is from 2017 & 2018 harvests and aged for several years—a portion aged in French Oak. The result is a delightful and versatile celebratory sparkler, a perfect food wine.
The appearance is golden with fine bubbles that just keep climbing up the glass.
On the nose you can detect some oak, ripe apple, pear, and some minerality.
Upon sipping, you can pick up flavours of pear, crisp apple, and oak. This wine is dry and mouth-fillingly rich as a result of the oak and having been aged on yeast lees for 20 months. Good acidity brings a crisp and refreshing balance.
​With food, Fox Harb'r Cuvee Brut is perfect with our local oysters from nearby Malagash. With its crisp acidity and minerality, you can pair it with lobster, scallops, and other shellfish, also with appetizers and salads.
Fox Harb'r Cuvee Brut is only available exclusively at our Resort.
---
Avery Gavel the sommelier at Fox Harb'r. An industry veteran with over 30 years of experience, Avery is a member of the International Sommelier Guild and can be found on Instagram under the handle @sommace.
The Fox Harb'r award-winning wine list contains over 540 selections and we're very excited that we added the first from our own vineyard in 2019. With his keen knowledge of the wines of the world, Avery is constantly on the look out for just the right wine for our list.