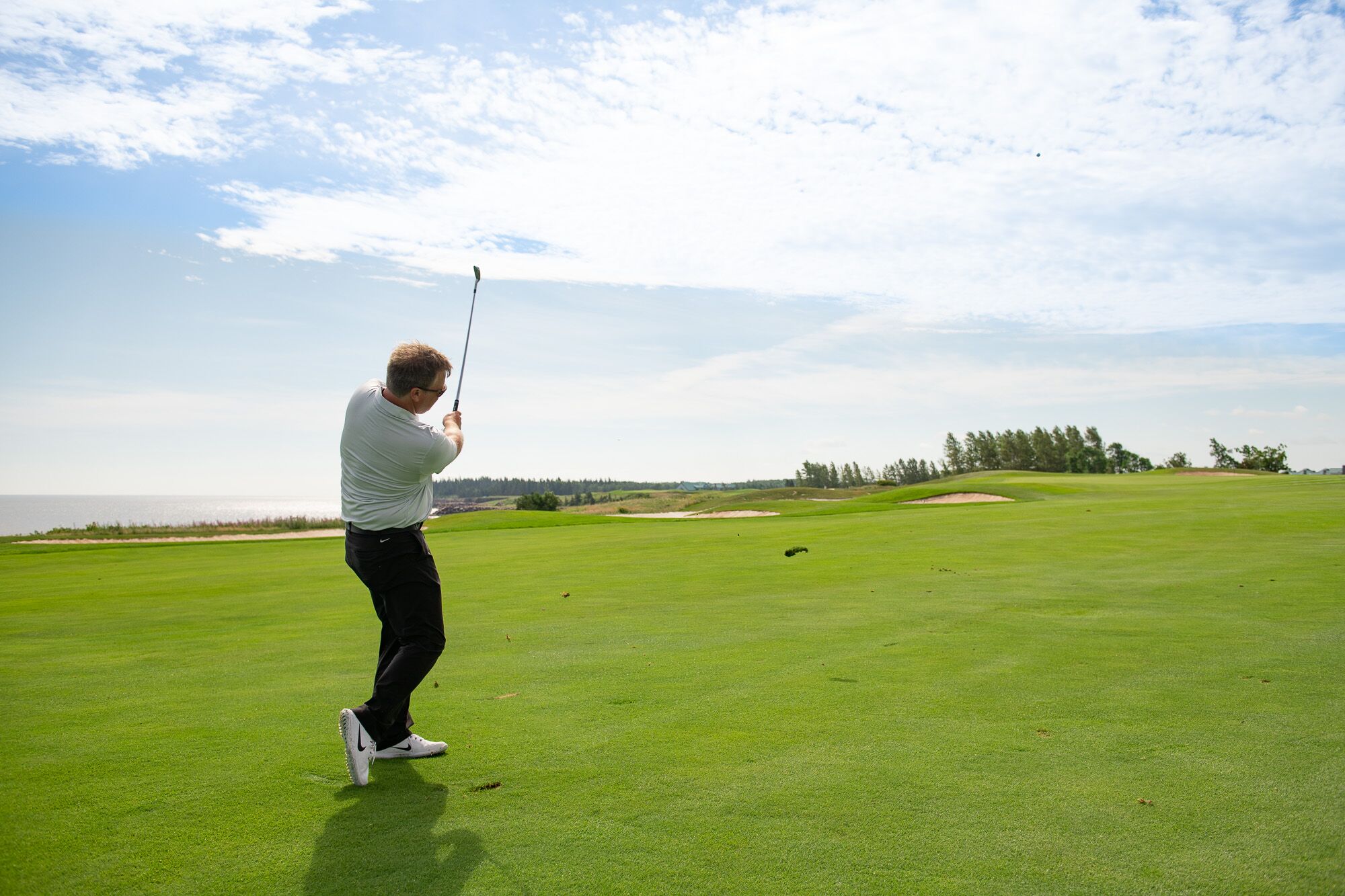 Golf is about slowing down and enjoying the wonderful outdoors, but there is a point where it gets too slow. We spoke with Elliott Isenor, Director of Golf Operations here at Fox Harb'r, whom you may remember for his advice on birdieing the five most challenging holes at Fox Harb'r. Here's his advice for cutting down on slow play. 
Show Up Early
We ask golfers to arrive twenty minutes prior to tee time. You might need the extra time to check in and get everything sorted. And if it turns out you don't need the extra time, you can always hit a few balls on the range before playing. 
Don't Go All Out on a Lost Ball
"Five minutes is the max that you should be looking for a lost ball," Isenor tells us. Fox Harb'r actually has a local rule called a lateral hazard. That is, any lost ball is a one-stroke penalty and any player should just drop a ball where their lost ball entered the woods or fescue grasses. 
Practise Ready Golf
Ready golf means you should be ready to go when your playing partners have finished taking their shots. This means you've already studied approaches, lined up your putts, and nearly finished your pre-shot routine. 
Don't Go Nuts with Practice Swings
Isenor tells us that while there's no rule about how many practice swings you can take, "One is really all that you need." If you need some extra time warming up, show up even earlier and hit the driving range. If you think you need extra practice—which never hurts, no matter what your skill level is—consider taking a class, working on the basics, or identifying some bad habits. A few extra practice swings won't get you there, but will slow down the game. 
Be Judicious with Your Phone Use
Phones are allowed on the Fox Harb'r golf course. After all, you never know when there'll be an emergency or something important that might come up. But using your phone shouldn't slow down your play. If your foursome is having trouble capping phone usage, try this rule: the first person to reach for their phone has to pay for the post-round drinks. 
Wave Groups Through More Often (When Things Get Back to Normal)
Currently, we're asking that golfers don't wave other groups through in order to respect social distancing. But when things get back to normal, consider it. 
"Waving a group through is something that I don't see golfers doing enough," Isenor says. If you're going to wave a group through, Isenor says the best time to do so is on a par three hole, which will take them less time to play through and help the pace of the course for everyone. 
Just Don't Ask to Be Waved Through
It's a bit rude to ask another group to wave you through. But if you want to get ahead and there's a slow group in front of you, Isenor has this advice: "You could always ask if they minded if your group skips a few holes to not hold them up in turn."
Again, due to the current situation, don't ask to be waved through. 
Embrace Technological Solutions
At Fox Harb'r, our golf carts are outfitted with GPS tracking, allowing us to see which groups are slow and which are fast. If necessary, we can send a message to a slow group and ask them to pick up the pace of play. 
Slow Play Isn't a Minor Issue
We're going to leave the last word to Isenor, who says:
"One of the major complaints or dislikes about golf is the length of a round. If we could get rounds back to being played in under four hours then I think we would see more people coming out to play the game again. We can do this by helping each other on the course and improving the pace of play."
Well said, Elliott.
Check out our great golf Stay and Play packages here.