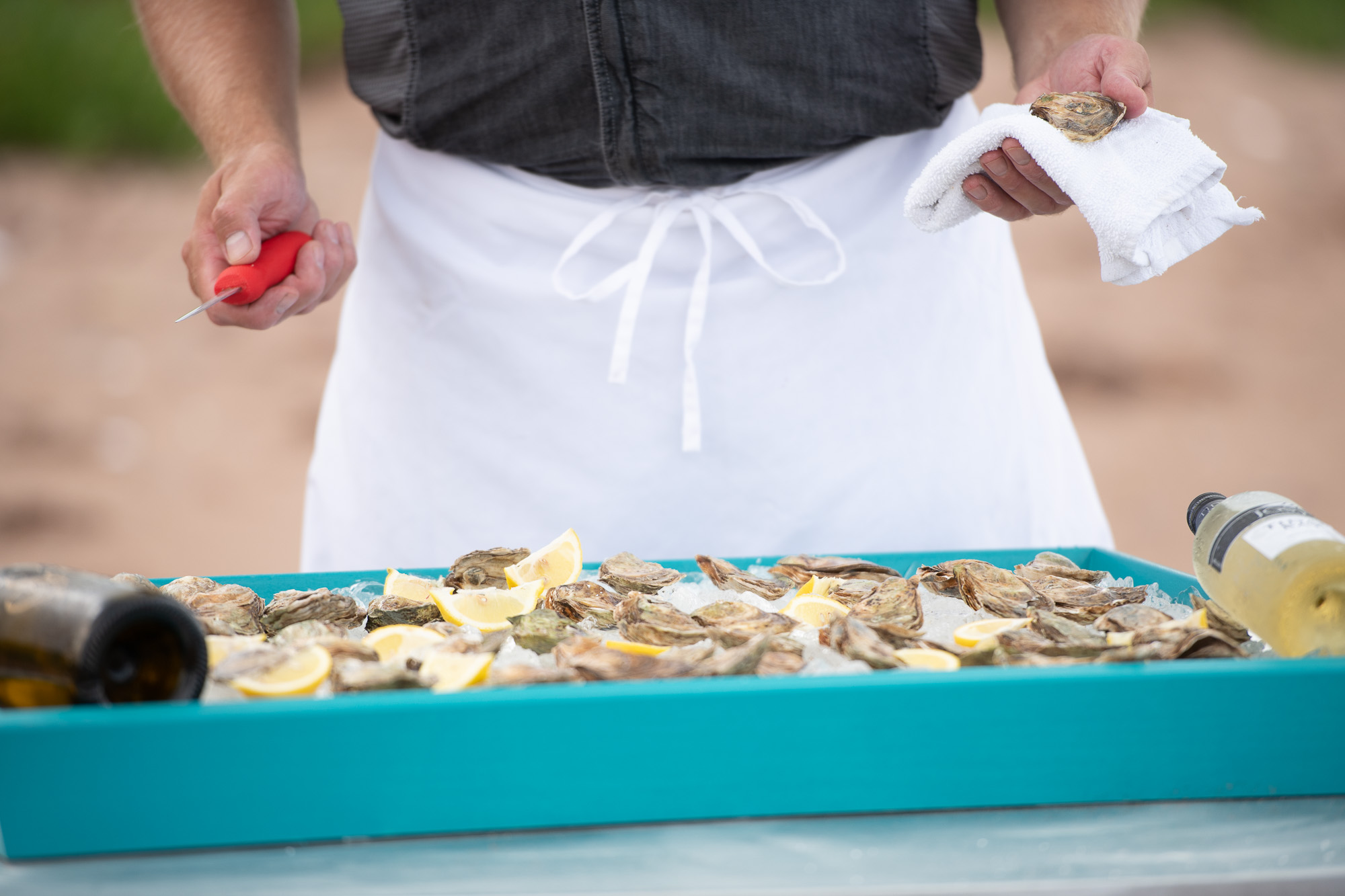 5 Seafoods That Make the Northumberland Strait Delicious
Nova Scotia's Northumberland Strait is truly blessed with an amazing culinary bounty. From local produce to woodland forage to craft beer to heritage meats, there's a lot about this place to make a gourmand excited. But we're here for the seafood and so are you, so let's get to it.
Whether you get your seafood straight from the wharf, from a dedicated fishmonger, or harvest it yourself (in a legal and sustainable way*), seafood is the most exciting thing on the menu.
And we realize that this list could have been doubled or even tripled, but we were bound to get full at some point, right?
Malagash Oysters from the Northumberland Strait
People who truly know and love oysters understand that oysters have a terroir of their own. The world-famous Malpeque oysters, for example, are crisp and mild. Oysters further down the Atlantic, such as those from Cape Cod, are quite robust.
For our money, though, it's Malagash oysters that are the best. Anyone who knows Nova Scotia oysters knows Charles and Nancy Purdy of Malagash Oysters (which is ten minutes from Fox Harb'r). Their family have been raising oysters in Malagash for over 100 years. These oysters are plump, full, and slightly briny. Our founder Ron Joyce was such a huge fan of these oysters he would regularly have ten dozen shipped home with him after a trip to the resort.
We serve these oysters fresh on the half shell, but chef Shane Robilliard uses them in many other applications too. For example, bake them with pancetta and creamed spinach and top with breadcrumbs.
Of course, Nova Scotia has plenty of other types of oysters. Shan Daph, Macintosh, and Ruisseu are all worth seeking out.
Scallops
Scallops are indeed found in the Northumberland Strait. And is there anything more beautiful that a well-seared scallop? Season with salt and pepper, deposit them in a clockwise motion in a hot oiled pan, then give 'em a flip. That's it. They taste buttery without actual butter, have a firm texture, and can be incredible with the smallest possible fuss.
Fun fact: scallops are one of the best examples a food with a high umami flavour.
Crab
It's rock crab fishing in the Northumberland Strait; the more famous snow crabs are further and deeper in the Atlantic. Sweeter than lobster and more work too, eating crab is a fun event all in itself. And if you don't want to spend an hour or two at the table cracking crab legs, you can always enjoy crab meat in ravioli, in crab cakes, in a salad, in spring rolls, stuffed in avocado, in dip, in tempura, or even on toast. It's truly the most versatile of all seafood.
Quahogs
Quahogs are clams. Specifically, they are hard clams with a lighter, more delicate flavour than other clams. And they're harder to find the further you get from the shore because they're at their very best just a few hours after you dig them up. And you can dig them up all by yourself. Once you do, maybe you'd like them steamed, served in clam linguini, or even in a nice creamy chowder. Like this one.
Lobster
Is lobster the king of all seafood? We're sure that's a lively debate (especially 'round these parts), but let's point out that lobster is synonymous with luxury, right up there with filet mignon and truffles. The flavour is clean, sweet, and light, and it comes with a texture that pops when you chow down on it. Lots people think it needs nothing more than butter and garlic, but lobster can be everything from complicated lobster thermidor to a rustic lobster roll to the richest possible poutine you'll ever have.
During lobster season on the Northumberland Strait, lobsters are consumed in vast quantities and vary greatly in size. But chef Robilliard thinks that the 1.5 pound lobster is the perfect size, as it cooks quickly and maintains a perfect sweetness without becoming tough.
Bonus: Tidal Bay Wine
Yes, it's not seafood. But Nova Scotia's very own wine appellation produces some beautiful wines that compliment seafood oh-so-well. And we'd be remiss if we didn't mention that, while it's great with all kinds of foods or all by itself, our very own chef Robilliard points out that the Fox Harb'r edition of Tidal Bay is fantastic with scallops.
The key to pairing any food and wine is finding a perfect balance of both acid and fat. Seafood actually has quite a high level of fat content. On top of that, it's often seared on an oiled pan or served with butter, which coats the inside of your mouth. This contributes to the rich feeling you get eating most seafood. The perfect pairing to that is a wine high in acid to cut through the richness, and our Tidal Bay is just perfect. Nova Scotian L'Acadie Blanc grape variety dominates and provides great structure and fantastic acid.
The menu at Fox Harb'r Resort's Cape Cliff restaurant is packed with tastes from the Northumberland Strait like our Signature Seafood Chowder (with lobster, scallops, halibut and salmon), Seared Scallop & Chard Salad, Baked Malagash Oysters and Butter Poached 1.5 lb. lobster. You'll want to stay for days just to try them all.
Some of the foods on this list, such as quahogs, can be harvested by recreational fishers provided they have the right license, follow local regulations, observe catch limits, and stick to the right seasons. Others, such as scallops, remain in the domain of professional fishing. If you wish to harvest seafood recreationally, be sure to consult Nova Scotia's annual Angler's Handbook.