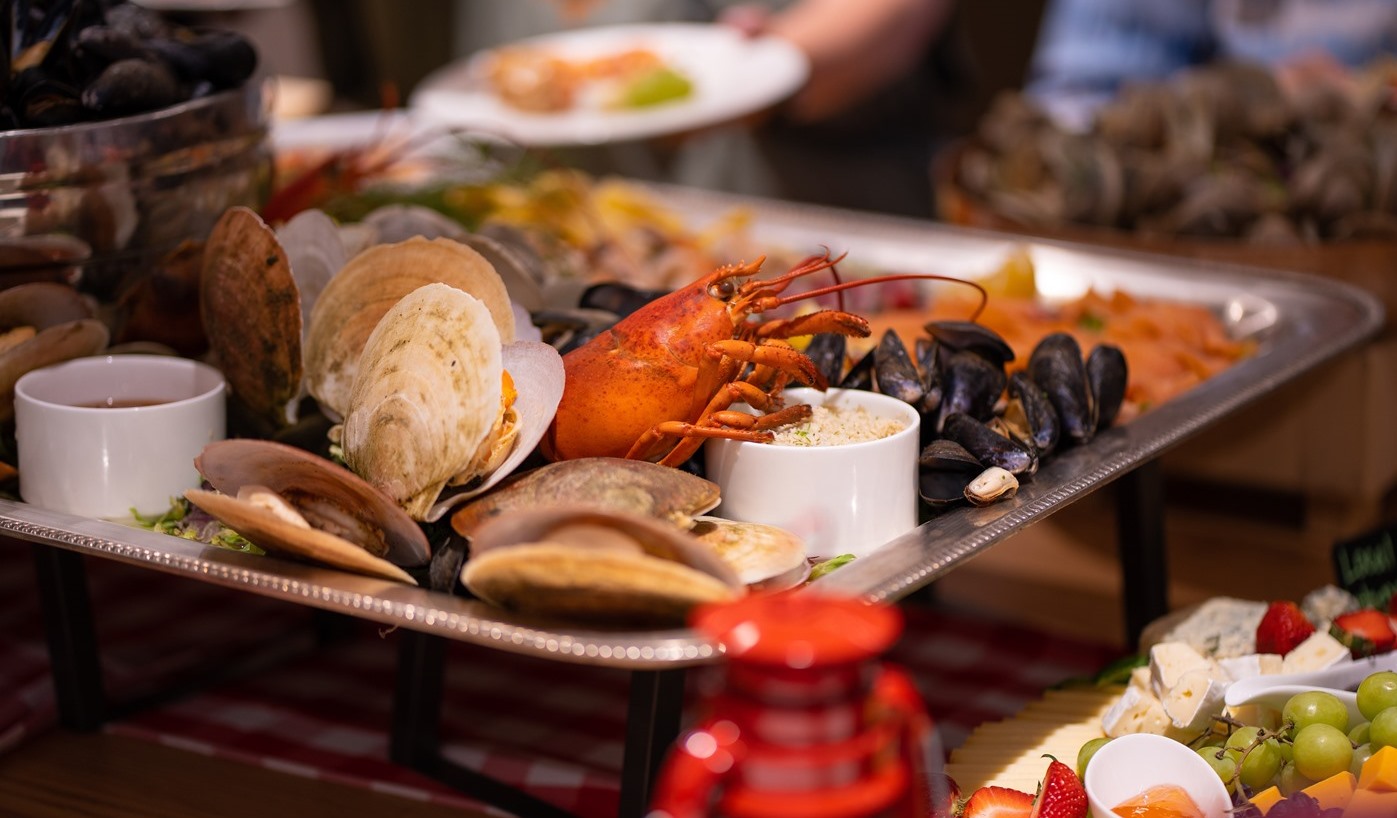 The Seafood Bounty of the Northumberland Strait
If you want truly world-class seafood, it's hard to beat the Northumberland Strait.
The Northumberland Strait is the body of water that divides PEI from Nova Scotia and New Brunswick. When you drive over the Confederation Bridge, you're crossing the Northumberland Strait. On stormy days, you might spot a ghost ship.
The strait is between seventeen and sixty-five meters deep and is known for complex tidal patterns, with the east end seeing two tides per day and the west end effectively only seeing one. It has some of the warmest ocean temperatures in Canada, thanks to the mostly shallow water. Obviously, it's sheltered from the open ocean. All these factors make a nursery, feeding ground, and shelter for sea life—and an ideal spot for rich and diverse Atlantic seafood. We're going to tell you about some of our favourites, but first, a word about terroir.
Seafood Terroir
Most often used to talk about wine, terroir literally meaning is soil or earth. So why use it to describe seafood? Because when we talk about terroir, we're talking about how geology, weather, and agricultural practices of a specific place affect the taste of the food produced there. And guess what? These factors can apply to seafood as well.
We've already described the Northumberland Strait in broad terms. But we've asked William Kawaja, Food and Beverage Director here at Fox Harb'r, for some specifics. He tells us that the cold Labrador current brings in nutrient-rich water from the Artic. On top of that, consider the two rocky coastlines the Northumberland Strait is blessed with. The many bays and inlets create lots of habitats ideal for the diverse range of species. We should also mention the sustainable fishing practices in Nova Scotia. By harvesting seafood sustainably, we ensure a healthy population and healthy ecosystem. The healthier the seafood, the better the overall product will be. So let's get into some of the bounty we're blessed with.
Bluefin Tuna
Bluefin tuna like to hang out in the east part of the strait, where they can hunt for food coming and going. Tuna is often served as steaks or as sushi.
Atlantic Salmon
This popular game fish also features in a wide array of famous dishes, from lox to gravlax to cedar plank smoked to grilled. It's sometimes served very humbly, from a can, but also can be extremely fancy. Atlantic salmon is sustainably farmed by local producers such as Sustainable Blue.
Cod
Perhaps the most iconic fish from Atlantic Canada, cod can be quite elevated. If you're imagining it tasting a bit like chicken breast, then you've only had frozen cod. Try it fresh—you'll find cod has white, flaky flesh that's a bit sweet.
Haddock
Similar tasting to cod, haddock is a leaner and firmer fish, making it ideal for fish and chips. And if you've ever tried to deep fry something yourself, you know that there's actually an art to doing it perfectly.
Halibut
Probably the best known premium white fish, halibut is mild and sweet by itself, which means it's great at taking on other flavours. Chefs can really show off their versatility on halibut. If you get it fresh, as we do from Sambro Fisheries, it's a truly amazing fish.
Swordfish
Another big game fish you can go out and catch yourself—provided you like reeling in really big fish while you're strapped into a fishing seat—swordfish has a meaty texture. The whiter the flesh, the milder it is, and the redder the flesh, the richer it tastes.
Rock Crab
Less famous than the massive snow crabs they harvest out further in the Atlantic, rock crabs are small crabs. In fact, they look just like Jonah crabs, but they're about half the size. They pack a big, notably sweet flavour. And eating a crab (or, if we're being honest, many crabs) is a fun event in and of itself.
Quahogs
The mildly sweet clam with the funny-sounding name, we can dig for quahogs right on the beach of the resort. They go great in chowder.
Scallops
On the Northumberland Strait, you can dip, dive, or dredge for scallops. That is, if you're a talented snorkeler (and have the right license) you can dip into the water and harvest them yourself. Or if you need another activity while scuba diving, you can harvest scallops. The professionals use a dredge system that lets the little guys go, ensuring the fishery remains sustainable.
Though they're in many dishes, you'll frequently see scallops prepared very simply. Seared on each side for thirty to ninety seconds, seasoned however you like, and you have a world-class dish on your hands. Want a sweet and umami-rich flavour bomb? Eat a scallop. Or twelve.
Oysters
As you may have inferred from our menu and blog, we're big proponents of the Malagash oyster. It's local to the Malagash peninsula and thanks to the sandy soil, it has a sweet and briny taste with a light texture. We get ours from the Purdy family, who have been growing oysters since 1867.
With that said, oyster varieties are all a little different—a bit like wine varietals. Local conditions such as the soil on the seabed, salinity in the water, temperature, depth, exposure or shelter from the open ocean, and other factors can help create a terroir for oysters.
There are plenty of other great oysters in the Northumberland Strait and the waters of Nova Scotia. Consider the Tatamagouche oyster—firm with a sweet, nutty flavour. Or Shan Daph oysters, meaty with a buttery finish. Macintosh oysters are known for a crisp melon taste and a salty clean finish. And Ruisseau oysters are small and sweet. But those are just a few varieties. There are dozens along the Atlantic coast. Really, the only way to wrap your head around all the different oysters is to try a bunch side by side, a task both interesting and delicious.
Lobster
We're fortunate to be supplied by local fisherman and we'll always be grateful that these delightful crustaceans are from around here. If you haven't had the pleasure, lobster is clean, sweet, and light. A properly cooked lobster tail has a texture that pops when you bite it, and the knuckle meat is soft and delicate. Eat it by itself with a scandalous amount of butter, or have it in bisque, mac and cheese, paella, lobster thermidor, pasta, lobster Newberg, risotto, the traditional (and essential!) lobster roll, or even a tradition defying lobster poutine. We're not going to claim that lobster makes every single thing better, but it does seem to improve an impressive array of dishes.
Blue Mussels
According to Kawaja, blue mussels are delicious but one of the most underappreciated items on the seafood menu. Kawaja tells us that "the ones in the Northumberland Strait have a sweet, delicate flavour and a plump, juicy texture. They are also high in protein and a good source of omega-3 fatty acids." So why do the poor blue mussels get overlooked? Well, maybe it's lack of awareness, or maybe it's their less than glamorous appearance compared to some of the most famous seafood stars. Yeah, we're looking at you, lobster.
Just One More Thing . . .
Nova Scotia halibut, lobster, oysters, and other seafood items are processed locally. There's no second step where it's shipped to a secondary site for processing. The job's done right in Nova Scotia. This means it's incredibly fresh when it reaches Nova Scotia kitchens. The fresher the seafood, the better the taste and texture.
With that said, Fox Harb'r Resort has a secret advantage: we can buy direct from many fishermen and other seafood producers. That way, their catch can reach our kitchen door often in less than twenty-four hours out of water. Unbeatably fresh? We'd say so.